Book, Music & Lyrics: John Wikman. John Wikman Productions. Director: John Wikman. Choreographer: Ruth Gabriel. Wonargo Cultural Centre, Northgate, Qld, 31 May – 15 June 2019
Prolific community theatre composer/lyricist John Wikman's new musical is set in the world of property development in the 80s. Bigg Developments are planning a world-class resort called Majestic Palms in the sleepy coastal town of Sunny Cove. All they need is council approval, which they eventually get but not before the whole project has been re-thought, re-branded, and become environmentally friendly.
A familiar scenario in the 80s and still a familiar scenario today, but once Wikman has set-up the premise he doesn't follow-through with a story, only incidents that happen in the corporate workplace - like business deals on the golf course, equipment upgrades, and the celebration of office birthdays, bad-hair days, and casual Fridays etc with the inevitable cake. All moments ripe for satire except the skewering is mild and inoffensive.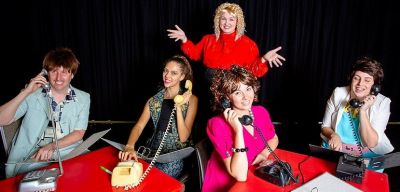 It feels more like a musical revue than musical, all done to a synthesised score that clones the hits of the eighties.
Fiona Smith was a brash, OTT Gina whose big-hair almost stole the show. She worked well with Simon Browne as Emerson, whose sense of decoration was alive with colour buzzwords, whilst Marvin Julius' Mike had enough sleaze to fill any head honcho's white shoes. Erin Dunstan, doing quadruple duty in a variety of roles, was spot-on as council-woman Tanya Green, Rachel Riggall balletically-flitted as the coffee girl Sophie, whilst Jonathon Gentner was agreeable dorky as Jimmy Apple, the 'substi-suit' stand in at meetings for the boss.
Despite the satire lacking bite the audience related, laughed a lot, and lapped it up.
Peter Pinne