Music by Elton John, book and lyrics by Lee Hall. Universal Theatrical Group, Working Title Films, Greene Light Stage, Michael Coppel, Louise Withers and Linda Bewick. Festival Theatre, Adelaide. December 29, 2019 to January 26, 2020
The 10th anniversary tour of Billy Elliot the Musical is in Adelaide and what a production it is! Just finished in Sydney, with a Melbourne season to follow, put aside some pennies to catch this show as you will not be disappointed.
Billy Elliot the film premiered at Cannes in 2000 and this theatrical version has maintained the core of emotion and grit that so defined the story on screen. Transforming a drama into a stage musical is not an easy task but it was Elton John who urged the idea from boardroom chat to staged glory. He wrote the music and worked closely with the film's director and choreographer (Stephen Daldry and Peter Darling) and Lee Hall (original screenwriter) on book and lyrics.
The cast are quite phenomenal and bring enormous energy and emotion to the stage. The backdrop of Thatcher's mid-1980s England and the crippling UK Miners' strike, which opposed colliery closures that decimated families and communities, still resonates today as humans across the globe struggle with governmental decisions affecting so many lives. Everyone on stage contributes to the story and performances are outstanding, with appropriate accents, excellent acting, dancing and singing.
On opening night Billy was portrayed by twelve year old Wade Neilsen who ably commanded the stage with an emotive presence, a strong voice and beautiful lines in his demanding dance scenes. The role of his friend Michael was delivered by Hamish Monger with maturity beyond his years and great comic timing that any adult actor might envy. I particularly enjoyed seeing all the younger performers rise to the amazing opportunity they have been given. There was a wonderful sense of ensemble overall and the young cast members truly shone.
Lisa Sontag was exceptional as Mrs Wilkinson. Everything about her performance was spot on: accent, movement, vocals and character. In fact all the performers' Durham accents worked well, holding through all the emotions they were required to negotiate, no doubt due to the work of Amy Hume, voice and dialect coach. Vivien Davies also gave the role of Grandma a huge boost with a delightful portrayal of a slightly forgetful but very strong woman.
All the male leads on opening night gave memorable performances with Justin Smith (Dad) and Drew Livingston (Billy's brother Tony) particularly strong. Dean Vince as Mr Braithwaite was also a highlight with exquisite physicality and comic subtlety. The consistently high calibre of the acting held the production together so that the rawness of the narrative could be explored truthfully.
The energy of the entire ensemble and their tremendous acting, movement and vocal skills also means that this musical offering sits well within the realm of musical theatre: story and musical numbers serve equally to shape the tale without irrelevant 'pasted on' segments to interrupt the emotional journey.
Further on the progression of story, the inventive layering of themes and the clear, rhythmic choreography in large group scenes is particularly effective and a great solution to keep the pace sharp. For example, the conflicts between miners and riot police is set surreally amidst the innocence of a children's dance class, rather than relegated to a separate scene. The message is clear but succinct and more powerful for that visual contradiction. Later, Billy's frustration and isolation is set to movement where the ensemble are holding perspex riot shields and the plight of a young man is played out amongst the dark foreboding of faceless superiors.
The choreography for Billy Elliot is a treat. It ranges from Busby Berkley style homage with feathers, hats or other props to more contemporary dance sequences which are full of dramatic intent. There are also some pure classical ballet moments but these also evolve to include acrobatic and aerial elements. At notable times the movement, music, prop manipulation and sound design converge so that there are vivid punctuations which absolutely heighten the drama.
Unlike some popular musicals the songs are not easily memorable (in that they won't generate an annoying earworm for the rest of the week after leaving the theatre) but they are poignant and very beautiful and entirely in context with the flow of the narrative and the path of each character. There are also moments of musical humour and silliness that still fit with the development of both characters and story while delighting audiences.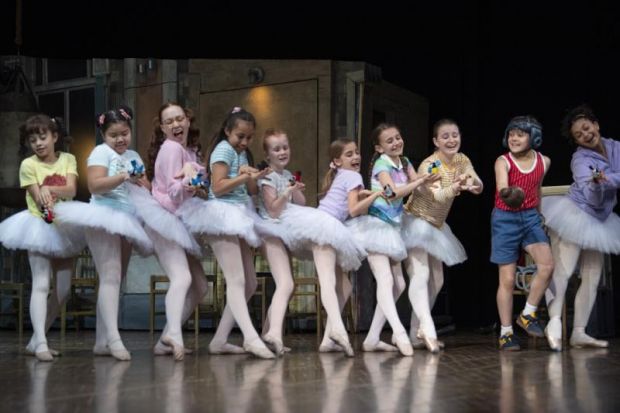 Superb design is also a hallmark of this production, from genius sets, nuanced lighting and costume, through to sound, props and some surprisingly large dancing dresses. There are a huge number of support artists attached to Billy Elliot the Musical to control all of these elements and the attention to detail and excellence shows.
I would happily return to see this production again and experience the alternate castings for Billy and Michael, such is its universal appeal; even my guest was unequivocal in his praise, this from someone who is not at all fond of musicals. The opening night audience was also unanimous in this, given the standing ovation and loud cheering.
Just go and see this work. I rate it as a clear benchmark toward which future musical theatre productions should aspire.
Lisa Lanzi
Photographer: James D. Morgan