By Geoffrey Atherden. Ensemble Theatre, Sydney. Director: Wesley Enoch. 4 January – 8 February 2020
The setting of Geoffrey Atherden's new play is the back room of a museum, a storage unit with many itemised boxes and a large, rolling ladder. It's a brilliant vision for the play from Set Designer Richard Roberts, and director Wesley Enoch makes great use of the space. Enoch is also the Artistic Director of the Sydney Festival, which opened the day before, so cheers and congratulations to him. He looks pretty fit.
Into this storeroom Atherden brings a friendly curator (Luke Carroll) with five precious items, including a boomerang and a watch, which he proceeds to leave with various audience members. He primes us all how to cheer, boo or groan when the results of the cricketers are revealed: for this is the story of the first black Australian cricket team to tour England in 1868 - 14 wins (hooray!), 14 losses (boo!), 19 draws (hnn?).
Crashing into the room come five Indigenous members of a group intent on adding truth to the narrative, and from then on we go back and forth from a story of yesterday's cricketers to today's black issues. Johnny Mullagh (Aaron McGrath), by far the most accomplished cricketer, gets the most from the six-months-at-sea round trip. He regularly top scores, meets Lady Lydia Bardwell (Chenoa Deemal) and learns to read and write. The Indigenous cast play all the white characters.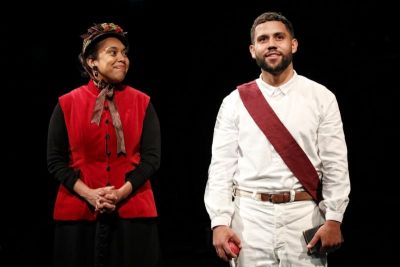 Colin Smith excellently plays white boss-man Charles Lawrence, quite a mover and shaker, who promises each man 50 pounds before they start the journey but finds excuses not to pay them at every turn, as well as getting them three cricket games each week, plus staged battles, boomerang throwing and mock war dancing.
Tall, angry Joseph Althouse and subtle Dubs Yunupingu - she with the mighty spray of black hair - complete the hard-working cast.
Director Enoch works wonders in the difficult Ensemble space, never revealing how restricted it is, with his small cast actually giving an impression of a team on an English tour.
It is of course when they get back to Australia that their troubles really begin. Their family and friends have all been moved to government-run missions. Cricket is hardly an option.
Frank Hatherley
Photographer: Prudence Upton