By Nakkiah Lui. State Theatre Company of SA. Dunstan Playhouse, Adelaide Festival Centre. 13 Nov — 1 Dec, 2019
Black is the New White feels very much like a marriage between Crazy Rich Asians and Guess Who's Coming to Dinner, in the nicest possible way. This romantic comedy challenges all of the stereotypes about our indigenous people and loudly and proudly canvasses almost every politically correct and incorrect issue that you would never introduce into polite conversation.
The story is pure 'soapbox television'. Charlotte Gibson, played by well-known actorMiranda Tapsell, is a successful lawyer. She is touted for legal and political greatness by her retired politician and proudly black, anti-white father, Ray Gibson, in a side-splitting portrayal by actor Tony Briggs. Charlotte has other ideas though. She is secretly engaged to Francis Smith, who is not what her family expected: he's unemployed, he's an experimental classical cello composer who has never worked, and most unnerving of all, he is white. It is Christmas, the family is gathering, and Francis and his estranged parents are invited. What could be nicer?
Tom Stokes, as Francis, is a revelation in comedy timing. Reminiscent of the late, great Robin Williams, Stokes has honed a fine physical performance using his body (an unwitting naked scene is worth the admission price), to both entertain and compel. Tapsell, as his love interest, is warm, bubbly and believable as she challenges her parents and the audience to consider whether race, or indeed class is the oppressor for our Aboriginal people and their fight for recognition and acknowledgement. The cleverly tiered set works well, but some of the dialogue, particularly from Tapsell, delivered from the top level, is not always clear.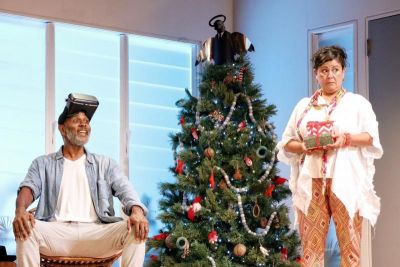 There is not a bad performance in this highly accomplished cast. Luke Carroll as the Narrator breaks the fourth wall chatting with, and at one stage urging the audience to stand and join in the merriment. He is pure fun, lighting up the stage with his infectious grin, strategically perched, rather like a Christmas elf in the set, commentating as needed, steering the audience through the events.
There is no doubt why Geoff Morrell is a revered cornerstone in Australian theatre. As Dennison Smith, a retired former conservative politician and long-time foe of Gibson's, he is anal, awkward and paralysed when honest feelings are needed for his son Francis and for his wife, the latter beautifully drawn as his long suffering and unfulfilled political 'handbag', by Vanessa Downing. Morrell and Downing have some deftly placed one liners that had the audience in the palm of their hand.
The voice of reason and poignancy is brought by Melodie Reynolds-Diarra as Joan Gibson. She plays the silent force behind her husband's career and brings great believability to scenes when compassion, family and human understanding are needed in a play that could, but never does, resort to being a pacey farce.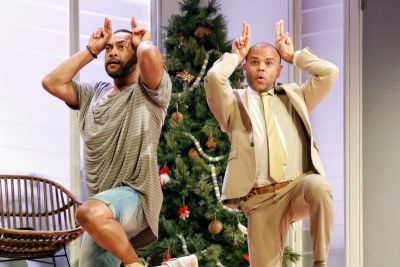 Tuuli Narkle as Rose and Anthony Taufa as Sonny play a besotted married couple, fiercely proud of being black and at the vanguard of opportunity for indigenous people. She, Charlotte's sister, is an international designer, he a gentle giant sports star whose whole identity rests in being black. Or is he?
The unsung star of this show is the Director, Paige Rattray. This production is tightly rehearsed with every move and placement of characters being purposeful and adding to the characterisation. The dialogue is lightning fast, believable and delivered with appropriate timing and emphasis. It is a fine example of an ensemble piece that creates a most entertaining performance.
Excellent work by the Designer Renée Mulder, Composer and Sound Designer Steve Toulmin and Lighting Designer Ben Hughes, is icing on this piece of provoking, entertaining confection.
Black is the New Whiteis an example of high quality Australian theatre. It tells our story, in our context and words, and should not be missed.
Jude Hines
Images: Miranda Tapsell and Tom Stokes. Photo by Toni Wilkinson. Tony Briggs and Melodie Reynolds-Diarra & Anthony Taufa and Luke Carroll. Photos by Prudence Upton.