Bangarra Dance Theatre. Artistic Director: Stephen Page. Music David Page and Paul Mac. Set Design Jacob Nash. The Playhouse, Arts Centre Melbourne. May 3-11, Wollongong May 17-18, Sydney Opera House June 7–29, Canberra Theatre Centre July 11-13 and QPAC Brisbane July 18–27.
Bangarra's latest offering emerges out of consultation with tradition communities in the Northern Territory in February this year. Blak consists of three portraits titled 'Scar', 'Yearning' and 'Keepers'.
In 'Scar' we are observers as a gang of young boys prepare for the physical and mental challenges in their journey to manhood. In 'Yearning' the female domain traverses birth, loss, language, powerlessness and self-identity. The final portrait engages all fourteen dancers in homage to the legacy of traditional culture and knowledge.
As expected the collaboration on stage is impressive, and the costuming elegant and sensuous. My personal highlight came late with the erotic and mesmerizing coupling of dancers in 'Keepers'.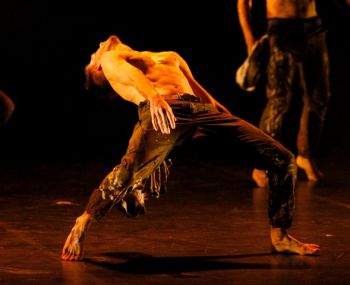 But the majority of subject matter is far from pretty. Dark themes pervade this production, including fighting, fear, suicide, and domestic violence. Important themes to be sure, and yet I craved a dose of hope within the mix.
Tension is further constructed by the pervasive soundscape, composed principally of electronic music and manipulated sound effects. While it unites the production, it is sometimes uncomfortably loud. Set design and lighting combine brilliantly to construct some quite wonderful effects, particularly with the use of sand at the close.
As an audience member, the importance of language was brought home when I was unable to understand the monologue at which some in the audience were able to laugh. I did not feel welcome then, but perhaps that is the point.
Blak runs for 75 minutes without interval.
Lucy Graham
Images (top) Hunter Lochard Page, Beau Dean, Riley Smith and Daniel Riley McKinley & (lower) Daniel Riley McKinley. Photographer: Greg Barrett.