By Federico Garcia Lorca. Directed by Emma Sproule. Dionysus Theatre. Performing Arts Centre MecClelland College Karingal (Vic). Oct 17 – 26, 2014
There is no doubt that Emma Sproule has great vision as a director, and is innovative with it. Ignoring the stage on offer, she sets Lorca's passionate and poetic play on the flat auditorium floor with the audience surrounding the actors, and sometimes the actors surrounding the audience in circular motion as a "Greek Chorus". The circle represents the inevitability of life that is so hard to break, generation after generation of women in particular unable to change what is predestined for them.
Lorca's play is lyrical and full of poetic imagery. Sproule dresses it simply without set or real costumes. Everyone wears black, with a length of red material which becomes a stole, a sash, a veil, a cloak, a scarf, a laniard for different characters. It's very clever and designed by Sproule herself with input from the cast. Peter Amesbury's lighting design is in red and cool steel, except for the flood of light when the moon is full. 7 actors portray 20 characters in this story of a girl left with little option but to marry a man who is not her first choice. When her true love, married with children, reappears at her wedding, she must follow her heart and runs away with him. Her bridegroom and others give chase, the Moon betrays them, and Death – an old crone – waits to pick up her prey.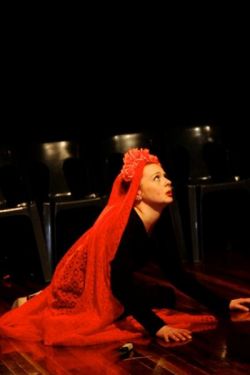 Blood Wedding requires great style and passion or else it slips into Melodrama. Sproule has both those things and incorporates them in her vision but unfortunately not all of her cast are capable of sharing it with her, though they try hard. It's difficult for a new community theatre company so far out of town to draw on the best of the actors available to Community Theatre (and some are quite exceptional). Dionysius was blessed with a dream cast for its initial production "Exit The King" but it doesn't have that luxury this time round. Most of the cast seem to have had no proper training and so don't understand about projection … when turned away from the audience whole lines are lost or inaudible, with actors lacking the skill to project more to compensate. Sproule uses Flamenco moves without music – nicely choreographed by Lucy Angell; but these require grace which is lacking in some cases. But the biggest let-down is the general lack of passion in a play which relies on it. Admittedly the cast had had a week's break, and they did find some passion in the second act, but still not enough to break our hearts with the tragedy.
Lenora Locatelli, as the Bridegroom's mother, comes closest to style and passion, but again many of her lines are lost through thick accent and loss of projection when turned away. Matt Dutchman acquits himself well as the bridegroom and has crystal clear diction. Jett Thomas is an interesting presence in a variety of roles but shows real command and power as The Moon. Kate Jackson is totally at ease in a variety of roles and impresses in all, but it's as death – crawling on the floor towards her prey – that she raises goosebumps. Kirsten Chapman, such a tiny figure, conveys the helplessness of the bride, but Lachlan Casey-Roleff, as Leonardo - the former love with whom she runs away, seems stiff and passionless and doesn't convince us that the girl would choose him over her bridegroom. The cast is completed by Amber Budd, who will clearly benefit from this experience.
While there is much to admire in Sproule's work, she is very ambitious with her choice of plays given the miniscule budget and access to actors that she has. This might be classed as a noble effort, and clearly a simpler play or a more experienced cast would help Dionysus truly find its feet – but in both cases that is easier said than done.
Coral Drouyn