Written by Joe Penhall. Mockingbird Theatre. Director: Chris Baldock. Broken Mirror Studios, 2C Staley Street, Brunswick. Februuary 28 - March 9, 2013.
When Mockingbird Theatre burst onto the scene last year with The Laramie Project at Chapel off Chapel, there were some who remained sceptical. After all, Chris Baldock was recreating his award winning production with a new company.
With Blue/Orange, Joe Penhall's 2000 award winning play, Mockingbird Theatre clearly emphasises its commitment to excellence and lays down the gauntlet to other small theatre companies. What's more, Chris Baldock cements his position as an exciting director poised to take on all comers.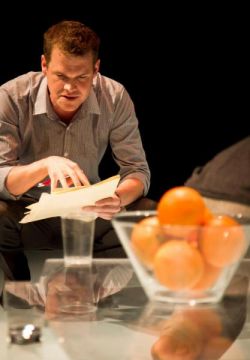 Three actors tackle questions on madness, power, racism and the state of the National Health Service. The dialogue is biting and intelligent, the stakes are high – and the performances are nothing short of brilliant.
The story is simple…Is Chris, from Shepherd's Bush, simply a borderline personality disorder who believes his father is Idi Amin, or is he a paranoid schizophrenic who could damage himself and others? Old school psychiatrist Robert believes the former, and the sooner he can get him out of the NHS and back home the better. Bruce is a new school shrink who believes it is in Chris' best interests (and his own) to keep the young man in hospital, sectioned if needs be, until a proper diagnosis is made. Chris, lonely and confused, is the disturbed black man they objectify in their power struggle, to the point where his welfare becomes expendable.
VCA graduate Kane Felsinger is nothing short of gobsmacking. His restless, insecure, delusional portrayal of Chris is both powerful and heartbreaking, and he possesses an impressive originality in his approach to the text. You're never quite sure just where he will go next, emotionally or physically. I had not seen or heard of Kane before, but a performance of this magnitude guarantees I will be eagerly awaiting his next role.
Christian Heath, an actor with so much natural ability, plays Bruce with controlled earnestness until he finally snaps and reveals his own human flaws. Christian seems to get better with every role, an exciting addition to Melbourne's acting scene.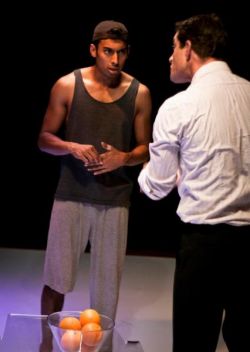 Richard Edge, as Robert the senior consultant, is emotionally spot-on and creates a man who is equally pathetic and reprehensible. New from across the Tasman, he's another actor to watch out for in the future. For me, despite the internal resonance, the performance was a little too physical for the performance space, and his habit of giving way slightly at the knees, coupled with large hand gestures, was wearing. The consultant is so stitched up, so conscious of his own mediocrity, that a less physical interpretation with more subtlety might have been more telling. Still, there is no doubting the actor's ability and nothing could detract from the overall production.
Set with the audience on either side of the performance space – in which a large bowl of oranges provides the only colour – my only criticism of Baldock's effective blocking, with large spaces between the three men emphasising the times when they confront each other, is that all three actors were so compelling and I sometimes wasn't sure where to look. The venue is basic and Mockingbird deserves much better – a real theatre in an easy to get to area. That will come in time. It's inevitable. This is theatre of the highest order that deserves to be seen by all lovers of good drama. The plays on the production slate for this year are ambitious, but this talented company is certain to make every one count as a stepping stone to the success it so richly deserves.
Coral Drouyn
Photographer: Irene Nagayo