By Scott Barsotti (based on Robert Louis Stevenson's story). Brisbane Arts Theatre, 11 Aug – 8 Sept, 2012.
This is more than a horror classic, finely acted; it is also a mind bender.
RLS based his story on the 1820s Burke and Hare murders: two grave robbers ended up murdering people to meet demand for cadavers for Edinburgh surgeons' dissection and technical training.
Discredited Dr Knox of the time, ended up joining the 'business' when he was struck off the medical register. RLS sets his story at the end of that century and weaves the plot around a menacing 'body provider' Gray and his female assistant, Moira, and surgery tutor, Dr MacFarlane and his new protégé, Arthur Fettes.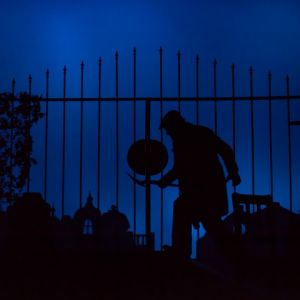 Playwright Barsotti wisely focuses on young Fettes (Liam Gillespie, an inspired, charismatic interpretation), MacFarlane (Stephen Smith, dignified and detached until the vulnerability of his character is breached), their 'provider' Gray (Alex Lanham in full menacing professional flight) and their relationships with three women (Sophie Schoenknecht, Samantha Yeates and Libby Gleeson - all splendid portrayals).
It's a complex, braided script with surprising revelations through Act 2 after the episodic Act 1 establishes period, situations and our sympathies with characters. Direction by Gregory Rowbotham and Daren King is restrained and careful until they let rip in Act 2 - blood and guts, brutality and ghosts!
It poses the moral question: How can surgeons improve their life-saving skills without bodies to practise on? Still an enigma today.
Jay McKee
Image: Liam Gillespie (Fettes), Alex Lanham (Gray's ghost) and Stephen Smith (Dr MacFarlane) & Alex Lanham (Grave robber, Gray)