Book by Alexander Dinelaris. Based on the Warner Bros. Film. Music by various including Whitney Houston. Lyric Theatre, Sydney. Opening Night, April 27, 2017
The Bodyguard The Musical is a high cholesterol entertainment banquet. On the menu is a rock concert, a pyrotechnical extravaganza, a belt song fest, and plenty of gyrating male abs, with an unplanned touch of pantomime.
The movie starring Whitney Houston and Kevin Costner was conveniently replayed on TV just last week. The 1990's film depicts a chiselled jaw bodyguard brought in to save a highly strung pop princess from an a crazy fan.
My first thought is how would they fit all those car chase scenes and the snow shoot out into a stage show? The answer is - they all happen off stage, but there is more than enough action on stage to make up for it.
The production is razor sharp. Bits of the set are flying up and down, stairs roll out, platforms spin and projected images drop onto the stage at the flash of a camera.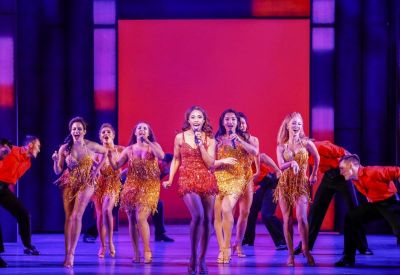 Whitney Houston smirked a little too much for my liking in the movie, but the voice made up for it. Paulini absolutely nailed every note as Rachel Marron. Her voice was like a polished brass instrument.
Alongside Kip Gamblin as Frank Farmer they left everyone in the audience with a smile during interval after they locked lips for the first time just before the curtain fell.
Kip and other members of the male chorus - spent a fair bit of time with their shirts off. Paulini by contrast only has a discreet moment in her lingerie.
The eye candy and visual treats are so rich that they do at times reduce the tension from what is a serious plot line. At one point when the stalker is poised to do something horrific a member of the audience laughed.
It almost felt like someone was going to yell out - "he over there.... look out."
Expect to have lots of fun and you will.
David Spicer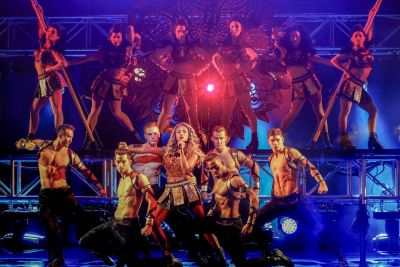 Bursting with pyrotechnics and multi-media, the opening of The Bodyguard feels more like an arena pop concert than any other musical I've ever seen. And there's more of the same to come, as several of Whitney Houston's classics are performed in spectacular concert style, with our own popular music diva Paulini a perfect fit for those powerful, incredibly popular hits.
Not every song gets that treatment, with quite a few finding context in the book, either as character songs, or treated as rehearsal numbers or recording sessions; a personal highlight being the antics of a trio of ensemble members in a Karaoke scene.
A slim script occaisonally left me wishing for a little more character and relationship development, but with an augmented Greatest Hits score to fit in, I guess it's understandable.
The concert / musical crossover nature of this production, together with the popularity of Paulini as an artist (the show really is a perfect vehicle for her) and the enduring power of Whitney Houston's hit-studded repertoire will ensure this show has appeal to a broad audience, well beyond typical musical theatre fans.
This is one of those shows where you go out singing the songs … you probably went in singing them!
Neil Litchfield