Sydney Dance Company 50th Anniversary Triple Bill. Dunstan Playhouse, Adelaide. August 8 – 10, 2019
Without reservation, the dancers of Sydney Dance Company are stupendous. They are infinitely watchable, superb technicians and consummate artists. In this program celebrating the company's fiftieth anniversary they perform three works by three Australian choreographers: Gabrielle Nankivell, Melanie Lane and SDC's Artistic Director Rafael Bonachela, now in his tenth year at the helm.
Opening night at Adelaide's Dunstan Playhouse was filled to capacity with an enthusiastic and glittering audience, despite the heavy rain and strong winds lashing the capital. To be expected really, as SDC doesn't visit Adelaide on a regular basis.
The first for the evening was Nankivell's Neon Aether,with curious but confusing program notes alluding to space and moving toward future possibilities while still acknowledging the past. (NB: no physical program was available. There were also grumbles from other audience members about this lack.) To begin, Luke Smiles' soundtrack assaults us with heavy breathing, a pre-check list for (presumably) a space craft and other assorted technological sounds, all played in total blackout. When the lights fade up, we perceive a stage filled with haze and a male soloist moving slowly with a 'watcher' diagonally opposite. Bit by bit, other bodies enter and begin a sinuous, controlled but undemanding dance.
For the most part Nankivell's compositional language is very grounded; only near the end of the piece does the choreography veer toward speed and higher level leaps and acrobatics. Movement is at times reminiscent of a spacewalk, machine-like efficiency or celestial bodies connecting and reconnecting. However, the overall choreographic notion is somewhat lacking.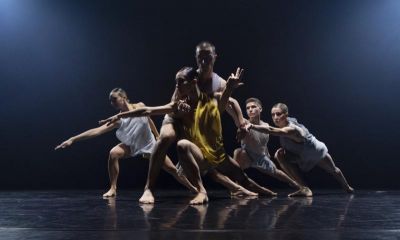 The costume palette by designer Harriet Oxley is one of very muted primary, secondary and tertiary colours realised in sheer flight suits or overall-style garments. The stage is empty except for the haze and lighting states, by Damien Cooper, that illuminate mostly from the wings. Neon Aether is often punctuated by snap blackouts accompanied by more of Smiles' soundtrack including the classic countdown to take off we all recognize. This is most effective toward the finale when darkness allows the dancers to swiftly change position on stage, giving the audience surprising snapshots of the group in different formations.
After a brief curtain down, Bonachella's Cinco is next. To my mind this work pays homage to other great choreographers: William Forsythe (In the Middle, Somewhat Elevated) and Balanchine (Episodes or Agon). To commence, audience blinders are snapped on in sync with the music, Alberto Ginastera's String Quartet No.2 Op.26 (1958). As the lights return to more normal levels, five dancers are revealed standing in stillness at the extreme front of the stage.
Bonachella's stunning choreography has definite balletic undertones that are overlaid with a gutsy, broad contemporary lexicon. The dancers shift seamlessly from unison to canon to duets to trios including a luminous solo. The complex lifts and the intermingling of bodies in intricate floor patterns, the deft repetitions of motifs or soaring elevated sections are compelling to view. Also noticeable here are the extraordinary line details of the performers. Whether the movement is floor-bound, creature-like or purely flowing and fast, each line from toe to fingertip is completed with energy and exactness.
Costuming by Bianca Spender in delicate flowing silks and subtle colours is wholly complementary to the choreography. It is the lighting design, again from Damien Cooper, that gifts Cinco with a heightened theatricality. At times, the lighting spots 'chase' the dancers and at other times it is the music that drives the sudden changing states. Colours are mostly subtle with occasional flashes of dramatic deep red-golds. This is a true collaboration of contemporary theatre artists, resulting in an energetic and complex work.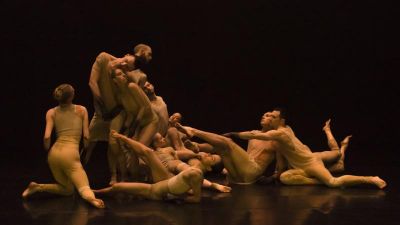 Melanie Lane's WOOF for the full company unashamedly borrows from the visual arts, pop and trance culture, futuristic science-fiction and more. The first vision we have is a series of tableaux that bring to mind The Raft of the Medusa by Géricault, or perhaps a Caravaggio scene.
Each dancer is clothed in different styles and textures of beige or nude material (reminiscent of Yeezy clothing) and their hands and wrists are dipped in black. This dark greasepaint gradually besmirches everyone's costumes and flesh as the piece unfolds, further uniting the personnel as a community forging ahead with a shared goal.
The dancers prowl with a grotesque sexiness, pose as if inflicting themselves on social media and strut in camp or animalistic styles at various intervals. There is excellent use of repetition and rhythmic shaking, stepping or jumping and at times the faces of the performers brutally snap, sneer or stare.
The composer, Clark, is an English musician who has collaborated previously with Melanie Lane. The soundtrack is eloquent and fitting but does not dominate the movement. At first there is the sound of only the dancers' humming, then a warped cello is added gradually morphing to a more electronic club-like beat. Verity Hampson's lighting design remains at a low level for the most part so that movement emerges from or can disappear into the dystopian gloom. For the most part there is a warm cinnamon tone that works well with the neutral costuming. Sometimes there is a crackle or shimmer of brightness or blackout, like a faulty movie projection, that aligns with the soundscape and provides an unsettling air.
Overall, this triple bill is an excellent cross-section of Australian choreography to celebrate a significant anniversary for a Company that has always held a significant place in our Country's dance landscape.
Lisa Lanzi
Images: top two Cinco (Photographer: Wendell Teodoro) and lower Woof (Photographer: Pedro Greig).