Festival of Theatre, Comedy, Cabaret and Circus. Bondi Pavilion. July 9 – 20, 2019
There are lots of good reasons to head to Bondi Beach this winter. Although the famous lifeguards are mainly off duty, behind them, in the soon to be spruced up Bondi Pavilion, is a smorgasbord of entertainment on offer – including many award winning acts from fringe and comedy festivals interstate.
You walk past the ice skating rink and can head upstairs to the ''big theatre" or through into the courtyard for a variety of pop up venues including a shipping container, jumping castle and cosy performance tent. There are even two open fires to toast marshmellows.
The opening night gala provided a promising taste of the festival. Quirky comedian Juan Vesuvius (Barry Duncan) gave an insight into Sydney from the perspective of an innocent Spanish immigrant; his struggles with English included "accidental" cutting references to what the locals are obsessed with.
On the keyboard Jude Pearl chimed in with a lively mix of original songs and comedy. Comedian Nina Oyama gave an hilarious account of what it's like to be a student in a country town when you have a Japanese background.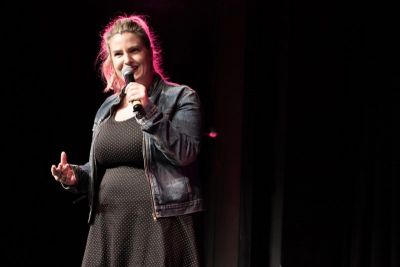 Adam Axford impressed with his magic tricks, most particularly some wizardry on a Rubik's cube. Nikki Britton let it all hang out – about being single and in your thirties. Her observations about being on the wedding invite circuit were delicious.
Finally Anya Anastacia (what a great stage name) got tangled up in a disco ball and twisted herself next to the keyboard doing an excruciating (but very funny) attempted burlesque striptease. Members of the audience were asked to help remove her underwear whilst her outer garments remained tastefully in place.
Next I ventured downstairs into the courtyard and into the parlour tent. In residence until Saturday July 13 is Chasing Smoke, a cohort of First Nations circus stars. It begins with a roll call of clichés about Aborigines being talented dot painters and hunters, then knocks those stereotypes on the head.
In the intimate surroundings they tell their stories with exuberance, humour and athleticism. Most moving was the story of one of the performers struggle to decide whether to be football player or a performing artist. As he swung and somersaulted with the rest of the crew, it was evident he made the correct decision.
The Bondi Feast runs until July 20.
David Spicer