Book, Music and Lyrics by Trey Parker, Robert Lopez and Matt Stone. Directed by Trey Parker and Casey Nicholaw. Princess Theatre Melbourne – Opening Night, February 4, 2017.
Let me start with the tagline:- The Book Of Mormon Is Quite Simply The Funniest Musical Of All Time.
There! It's just my opinion but I'll take on any challengers (not that I expect there to be any). This marvellous piece of buffoonery, for all it's crudity and brashness, is warm, endearing, positive and with a terrific score.
The slim storyline sees newly appointed missionaries sent to Uganda, where the population is dying from AIDS, poverty, neglect and terrorism. Can anything in the Book Of Mormon actually ease their plight?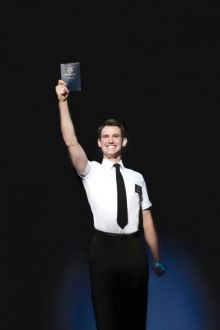 I am not a fan of South Park – I've always thought it puerile and overly crude, but I am now a fan of Trey Parker and Matt Stone (who appeared at the curtain call) along with Robert Lopez, whose contribution should not be under estimated. It's a collaboration made in Latter Day Heaven. And it should be remembered that Parker and Stone are storytellers - they know how to structure; when to give their audience breathing space; when to inject pathos; how to have a character emotionally connect with an audience. Make no mistake, this is not just a series of gags – although they come thick and fast and are totally hilarious in a way that leaves you gasping for air; this is a finally crafted and structured show where the book never puts a foot wrong, and the musical score carefully underpins every character transition. It's innovative and fresh, yet classic and proven all at the same time.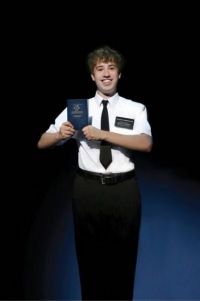 Much has been made of the fact that the two leads have been imported when they could have been cast here. Yes, they could, but they weren't, so get over it. That's not to say that local performers weren't up to the task, but there are dozens of other factors at work and it's doubtful that local actors would have been any better (or worse) than the two imported stars. Canadian Ryan Bondy has the leading man role of Elder Price, who doesn't want to share his achievements or rewards with anyone, let alone a klutz like Arnold Cunningham. Bondy is excellent, with a fine voice and plenty of stage presence, but he's at the mercy of the astonishing A.J Holmes as Arnold, Elder Cunningham. Holmes possesses an arsenal of physical comic skills, along with impeccable timing and a warmth and vulnerability that make him endearing to every member of the audience. He also has an amazingly flexible voice with a very pretty head register.
The unexpected star of the night is Zahra Newman, who leads the local cast (and what a cast it is). An award winning dramatic actress, she brings extra dimension to what might have been a paper thin character in Nabalungi, but it's her singing voice which blew us all away. She has enough chest register to belt a number, and the sweetness of tone to deliver the prettiest melody. She is perfect on every level. The marvellous versatility and experience of Bert LaBonte (Mafala) adds an extra dimension to what could have been just another two dimensional African character, and there's a totally credible father/daughter relationship between him and Newman.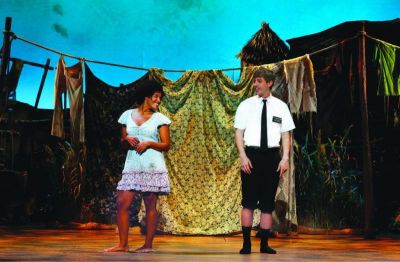 Rowan Witt is 'wonderfully witty' and 'gorgeously gay' as Elder McKinley and his "Turn It Off" number is an absolute showstopper. Andrew Broadbent is fine in a number of roles but totally wonderful as John Smith. With such fine artists as Daniel Assetta and Mitch Mahony in the ensemble, while the amazing Jay James-Moody is standby for Cunningham, this is clearly one of the finest Australian casts ever assembled.
Kellie Dickerson, surely now acknowledged as our finest Musical Director, has once again assembled a group of musicians who knock our socks off with their energy and skill…it's a fabulous band.
Scott Pask's set is fabulous and keeps transition time to an absolute minimum and Anne Roth's wonderful, and perfectly reflective of the content, costumes show why the designer is a Musical Theatre icon. Casey Nicholaw is co-director, but it's his choreography that delights at every turn and step-ball-change. It's crisp, cheesy and camp…in other words, just perfect.
No matter what you have to pay for a ticket, it's worth it. See it twice…you won't believe it the first time. It's sheer Dazzling Delirium!
Coral Drouyn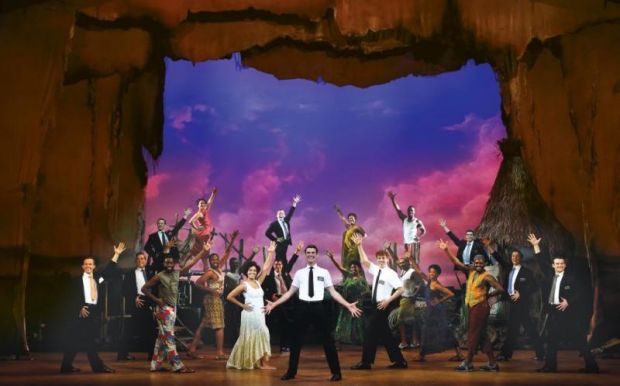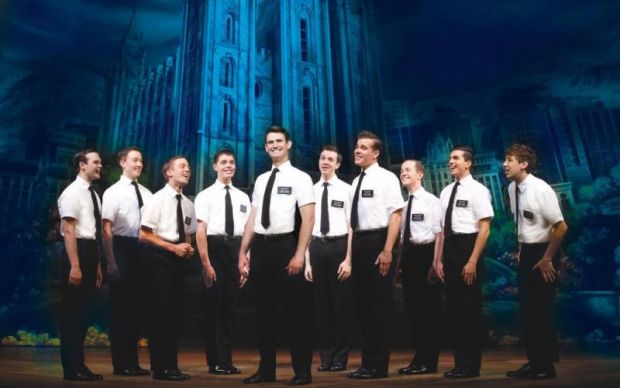 Images (from top): Phyre Hawkins as Mrs Brown, Ryan Bondy as Elder Price, and A.J. Holmes Elder Cunningham; Ryan Bondy; A. J. Holmes: Zahra Newman as Nabulungi and A.J. Holmes; Ryan Bondy, Zahra Newman, A.J. Holmes and company; Ryan Bondy, A.J. Holmes and Company inTHE BOOK OF MORMON (c) Jeff Busby