By MOMIX. Conceived and designed by Moses Pendleton. Arts Centre Melbourne, State Theatre. 7 to 11 August, 2013.
Botanica is a well-paced, abundant and engulfing work, a visual feast richly informed and buoyed with a great eclectic cultural mix of music. My overall response is that it is an exquisitely realized design, a rare gift of theatrical interpretation. It is a wonderful journey amongst anthropomorphized flora, fauna and natural phenomena.
MOMIX have created a generous and joyful work that allows for interpretation. Though it contains some dark and brooding scenarios and moments that hint at the subliminal, it is a wonderfully rich work that can be enjoyed by all the family. I was accompanied by an eight year old who, for the whole ninety minutes, appeared to be happily transfixed and impressed. She often whispered an inquiry or meaning she gleaned as the work progressed to me.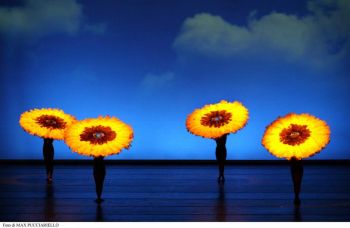 Gum-nut dance, the preening of a number of handsomely conceived and executed centaurs, a wonderfully narcissistic mirrored androgynous full-bodied contortion, a prehistoric dinosaur, swarms of insects and numbers of birds, a miraculous snake exhibition and even a fan dance.
Throughout strong contemporary dancers are amply supported by wonderful multi-media, lights and costumes and masterfully manipuliable objects. The incorporated colors are vivid and spectacular. There are many delightful and whimsical surprises and much excellent puppetry to b enjoyed.
Great show for children from about eight to the grandparents.
Suzanne Sandow
Performed by: Dajuan Booker, Jonathan Bryant, Simona Ditucci, Morgan Hulen, Autumn Burnette, Elizabeth Loft, Nicole Loizides, Graci Meier, Matt Schanbacher and Jason Williams.
Lighting Design: Joshua Starbuck and Moses Pendleton
Costume Design: Phoebe Katzin, Moses Pendleton, Cynthia Quinn
Puppet Design: Michael Curry