Oscar Theatre Company. Director: Emily Gilhome. Musical Director: Dale Lingwood. Choreographer: Dan Venz. Visy Theatre, Powerhouse, Brisbane. 3-19 April 2014
BOY & GIRL is sexy, filthy, and outrageously entertaining. This raunchy gender-bending fusion of cabaret, musical theatre and pop has buckets of musical muscle. With its mix of a little bit of Weimar Republic cabaret, a little bit of Café de Paris, and a whole lot of Broadway, these boys and girls deliver on every level in song, dance and nudity.
Blurring the lines of gender the girls get-it-on like Magic Mike while the boys devour Chicago's "Cell Block Tango." In boots, shorts and red-corset, Chris Kellett as the MC set the tone of the night with his lascivious and funny turn on "Wilkomen" (Cabaret), and later has great rude audience participation fun with "The Boom Boom Song."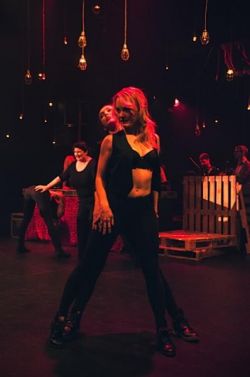 One of the best vocal performances came from Jacqui Devereux (accompanied by the girls) who belted "Bring on the Men" (Jekyll and Hyde) in true diva style. Kimi Tsukakoshi sang a sweet "When Somebody Loved Me" (Toy Story 2), which was a terrific set-up for the hilarious Disney sequence which included two guys singing "Beauty and the Beast" and two girls doing "A Whole New World." Conor Ensor's Grease double, "Sandra Dee" and "There Are Worse Things I Could Do" worked well as a male medley, while Aya Valentine skipped joyously through "My Boyfriend Lives in Canada" (Avenue Q).
Second act included more pop than the first with salutes to Jessie J ("Do It Like a Dude"), Beyonce ("If I Were a Boy"), and Lady Gaga (Born This Way), with the Cinematic Orchestra's "To Build a Home," a nice quiet reflection from the funk. The closing, West Side Story's "Somewhere" was notable for its perfect group harmony.
Dan Venz created some great moves with every style from hip-hop to Broadway getting a look in, while Dale Lingwood, leading a four-piece group of drums, bass, guitar and keyboard, were impressive in their versatility. Jason Glenwright's lighting design helped establish a mood that was smoky, but alive with razzle-dazzle. Final kudos must go to director Emily Gilhome who gathered together such a super-talented cast (25 in all), and for getting them to deliver this sassy, glittering high-heeled gender-switching show.
Peter Pinne