By Felix Nobis. Company of Rogues. Bondi Pavilion. Directed by Erica Lovell. May 9 – 25, 2019
This production has an intriguing credit for an Olfactory designer, which I learnt afterwards was for an essence of eucalyptus that was lightly sprayed on the audience as they entered the theatre.
Whilst the scent wasn't quite strong enough to register with me, other senses were aroused during the performance.
Boy Out of the Country is a soap opera set to vernacular verse in country Australia. Two brothers, Hunter (Tom Harwood) and Gordon (Jason Glover), are reunited after one has spent time in prison, to duel over inheritance, care for their mother and past relationships.
Mixed into bitter disputes were delightful flashbacks to their youthful pranks and misadventures. At one point they accidentally became glued together, but symbolically are left with each other's skin on then, when they are painfully torn apart.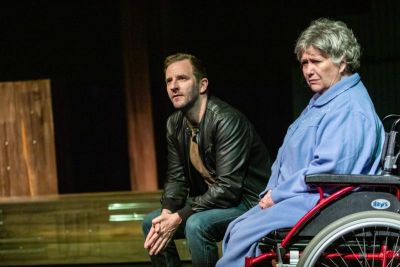 The female characters provide welcome warmth to the production - first Amelia Robertson-Cunninghame as the spouse of one of the brother Rachel, then Jeannie Gee as the matriarch of the family (Margaret), who steals the show when she recalls a past romance.
Stan Kouros makes a welcome return to the stage as the local Police officer Walker.
The drama moves efficiently from a police station, to a family home, to a nursing home, to outside in the bush aided by a simple but clever moving set and nice sound effects which meant you almost smell the country town (or maybe the subliminal eucalyptus was working).
This was an entertaining and gripping night in the theatre.
David Spicer
Photographer: Noni Carroll