Music and Lyrics by Peter Allen, book by Nick Enright. Director: Tom Sweeney. Willoughby Theatre Company. Concourse Theatre, Chatswood (NSW). September 23 – Octiober 1, 2011.
Bumping in a big show can be harrowing, but what about bumping in a whole theatre? The Willoughby Theatre Company had that mountain to climb by staging The Boy From Oz, the first ever production in the magnificent 500 seat tiered Concourse Theatre in Chatswood.
Sitting down in the plush cushioned seat, my mind wandered back to the now demolished flat floored Bailey Hall and those hard orange plastic seats. We were up in the new dress circle, surrounded by all the company's life members, dressed in their finest. Searching for a collective noun, the term chorus came to mind; a chorus of life members.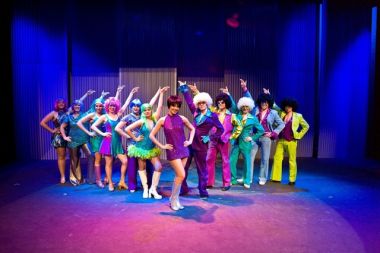 For those on stage and back stage there was the thrill of breaking in a new venue, the 'excitement' of discovering missing globes in some of the spotlights and 'joy oh joy' the fly tower kept playing up during rehearsals.
Was it right on the night? Absolutely. On opening night there were only a handful of missed lighting cues...which was extraordinary given that the technical team was breaking in a new system.
As the agent for The Boy from Oz, I attend many productions a year. This performance sparkled in many respects.
The band, under the direction of Mark Pigot, was flawless, costumes by Joy Sweeney were gorgeous and there was some very crisp dancing and singing.
Peter Allen was played by WAAPA graduate Nick Moorhead.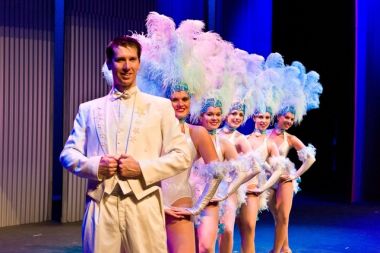 He slipped into the role like a hand in a glove. Gliding across the stage, hitting every high note and gliding his hands so smoothly across the keyboards that it looked like he was playing live.
His on stage partner was Mikey Hart, as Greg Connell. It was a rare outing for this show to have two straight men (in real life) playing a gay couple. If its fine for Hugh Jackman on Broadway, then its fine for Willoughby in Chatswood.
Other principals also shone – Aled Morris as Young Peter, Sally O'Donoghue as Judy Garland and Josephine Ison as Liza Minnelli completed a strong ensemble.
The new Concourse Stage is a big space to fill and as the teething problems are ironed out, Willoughby Theatre Company will gain the confidence to stage even more spectacular productions in the years to come.
David Spicer
Additional Reading – Don't Give Up Your Day Job - Our chat with director Tom Sweeney.
To keep up with the latest news and reviews at Stage Whispers, click here to like us on Facebook, or follow us on Twitter.