By Jimmy Chi and Kuckles. Opera Australia / Opera Conference. Riverside Theatre Parramatta from Jan 16 - Feb 1, 2020, then Perth, Melbourne, Brisbane, Canberra and Adelaide.
Bran Nue Dae has achieved the rarest of feats for an entirely original Australian musical – a second national tour. Previously this level of success had only been the domain of Australian written jukebox musicals.
This joyous production, filled with hummable tunes, endearing performances and quirky choreography hits the mark and justifies a consortium of Australian Opera companies decision to revive the work, first staged in 1990.
The first act felt a little lumpy – with the transition of song to dialogue not always seamless.
I did also wonder whether the gentle folksy music still resonates in a time when musical theatre is pushing new boundaries in style. But by the second act the spirit of the musical had won the audience over.
Bran Nue Dae is a coming of age story which follows awkward teenage Aborigine Willie (Marcus Corowa) who lives in Broome, but is sent to Perth for a Catholic upbringing. Corowa had a natural chemistry with his on-stage girlfriend Rosie (Teresa Moore).
In the musical, Willie flees Perth and on a road trip home meets the charismatic Uncle Tadpole (Ernie Dingo).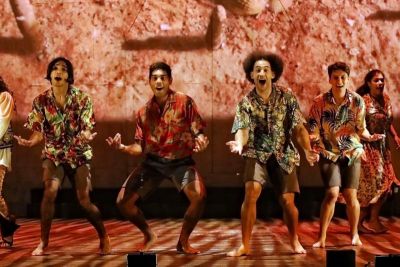 The gravelly voiced Dingo has now completed the trifecta of performing the role in the original season, the 2009 movie and the current tour. His cheeky charisma glued the production together.
Adding to the belly chuckles were the performances of Ngaire Pigram as Aunty Theresa and Callan Purcell as Slippery. They both beautifully milked the gags which tie the characters together at the end of the musical.
Bran Nue Dae lightly touches on serious issues affecting Aborigines, focussing more on a message of inclusiveness and outrageous humour. At one stage inflated balloon like objects float down from the ceiling. Closer inspection reveals their intended purpose. =
The dusty bright orange design of the production by Mark Thompson cleverly managed the transition from a Broome cinema to outback road trip and later a church, giving the production a warm rustic feel.
Watching the musical is like sitting on a nice beach in Broome on a warm day and having the gentle waves wash over you. The anthem Bran Nue Dae resonated as you left the theatre.
David Spicer
Photographer: Prudence Upton