By Kenneth G. Ross (new version). Centenary Theatre Group (Qld). 14-29 September 2012
I'll reveal my bias first: I am a pacifist, largely because of war stories like this one.
This century-old miscarriage of justice, in judiciously skewed courts martial, led to sacrifice of two colonials, in order to save face for their jelly-spined British superiors.
While Ross honoured CTG by granting them first rights to his revised version, the cast of 19 males is a challenge. With judicious doubling, director Rod Felsh managed an acceptable production with 16 players.
The actors at the core of the drama carried the audience with them all the way to the death shots. It's a gut wrenching play, stark final moments played in a stage washed blood red, with a back-projected international headline criticising Lord Kitchener's complicity.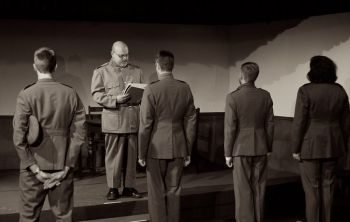 Cameron Castles (Major James Thomas, lawyer for the accused Aussie Carbineers), Andrew Nathan (the 'judge', President Denny), Dennis Fadil (MajorBolton), Guy Smith (Capt Taylor) all excelled. Chris Vaag and Michael Bemrose (as two of the three accused, Lt Peter Handcock and Lt George Witton resp.) gave impressive performances. Sadly, Tom Yaxley as the titular Breaker was inclined to gabble, and his poetry renditions were lost on the audience. With some serious vocal training this actor has the potential to develop star quality.
My opinion: Cameron Castles, Andrew Nathan, Chris Vaag and Henry Young (memorable in two minor roles) were the stars.
Jay McKee