With Teddy Tahu-Rhodes & Students from the Queensland University Performing Arts. Concert Hall, QPAC, 7 Oct 2017/Empire Theatre, Toowoomba 8 Oct 2017.
If it wasn't enough to have the audience in tears once, Qld Pops had to do it twice in their Broadway and Beyond concert yesterday at QPAC's Concert Hall. With Patrick Pickett conducting and special guest-artist Teddy Tahu-Rhodes leading the whole faculty of Griffith University's Musical Theatre Students (90), singing "One Day More" from Les Misérables, the sound was incredibly thrilling. The song, one of six from the musical closed the first half. It also closed the show as an encore so there were two bites of this emotion-charged epic-theatre piece.
The orchestra was in fine form, with this year's concert having a slightly more contemporary feel than previous years. Yes, they were totally at home with Tommy Tycho's familiar Gershwin "Strike up the Band" arrangement and the collection of "Give My Regards to Broadway" songs, but a suite from Alan Menken's Aladdin score, which included the bouncy "Friend Like Me," was a welcome addition.
Tahu-Rhodes' brilliant baritone was as usual brilliant, delivering impassioned performances of "Some Enchanted Evening" (South Pacific), "This Is the Moment" (Jekyll & Hyde) and "Stars" (Les Miz), but he had the most fun with a character-driven "If I Were a Rich Man" from Fiddler on the Roof. He also coupled warmly with Jessica Mahoney, a recent Maria in the Conservatorium's West Side Story, on Phantom's "All I Ask of You".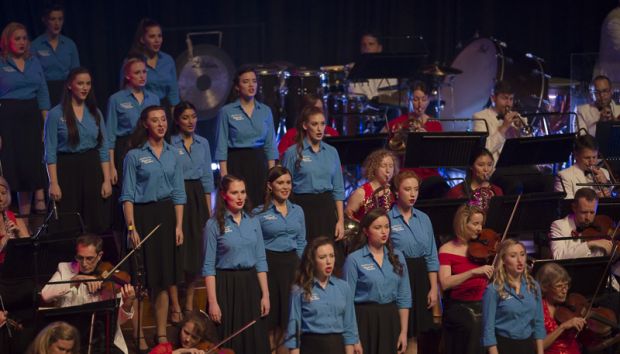 Student Paige McKay took a stab at the Streisand anthem "Don't Rain on my Parade" (Funny Girl) and came up smiling, whilst Emma Kavanagh was a more than acceptable Elphaba on Wicked's green-witch ode "Defying Gravity".
The concert ended with an audience popular selection from Jesus Christ Superstar. Tahu-Rhodes ate up the bass-line of "Hosanna", Manda Flannery, Georgia Spark and Maddison McDonald did a well-sung trio version of "I Don't Know How To Love Him", Casey Martin in hippie gear with flares did a cute "King Herod's Song" assisted by a chorus of girls (also in hippie outfits), while the boys, Harrison Aston, Oliver Lacey and Elliot Baker gave rock-concert performances of the title tune.
But it was conductor Patrick Pickett's cheerful demeanour that held it all together. Making every audience member feel like they were sitting in their favourite armchair, he created an atmosphere that was irresistibly homely.
Peter Pinne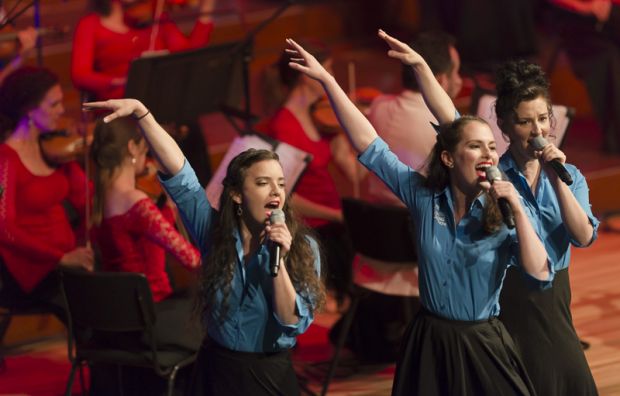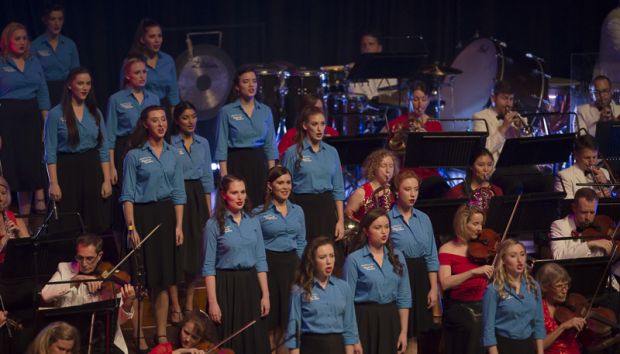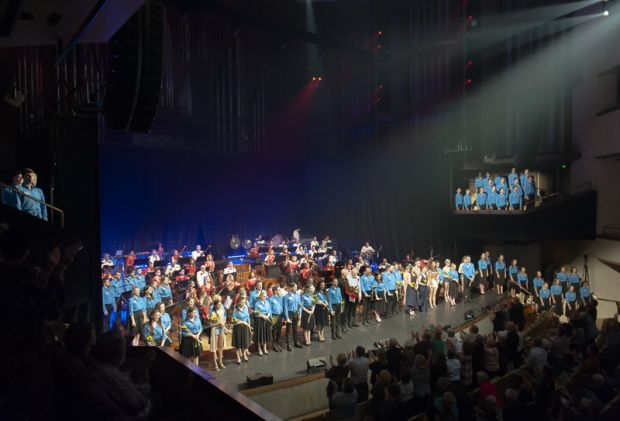 Photographer: Neil Reeves