Written & directed by Jada Alberts. A Malthouse Theatre and State Theatre Company of South Australia Production. Malthouse Theatre, Merlyn Theatre. 8 – 23 June 2018
'All happy families resemble one another; each unhappy family is unhappy in its own way.' So goes Tolstoy's oft-quoted dictum. But the indigenous Darwin family in Jada Alberts' play is worse than unhappy: they are shattered by the suicide of a family member - and their lives are shaped and defined by their indigenous past and present. (Is it incidental that there is no father figure here?) The play begins with the discovery of that suicide – a flashback to the main action. Joey, whom we never see, has hung himself with fishing nets bought by his cousin and adoptive brother Ruben (Dion Williams) – and the play is Ruben's story. Wracked with guilt and despair, he acts out with anger and aggression.
Sentenced to counselling after punching a cop, he's closed off and uncooperative but loudly, abusively garrulous with his court appointed counsellor, David (Trevor Jamieson). He escapes into alcohol and other drugs and defensive isolation. His adoptive sister Adele (Leonie Whyman) alternates between affection and cajoling, but she can't reach him, and nor can Adele's boyfriend Jered (Nelson Baker), supposedly Ruben's mate. Worse still, the woman who rescued Ruben as a lost orphan child and took him in is dying of cancer in hospital. Ruben refuses to see her: losing a second mother – and now – is too much. It's not until his Aunty (Lisa Flanagan) comes up from Alice that there may be someone who can get through the wall Ruben's built around himself.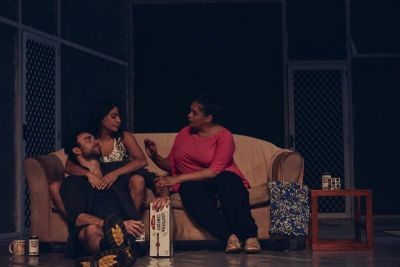 The performances here are sincere but unfortunately somewhat uneven. Some dialogue gets lost in naturalistic mumbling or overlapping shouting matches. Nelson Baker's Jered has his moments, mainly in interaction with Ms Whyman's Adele, but the character he plays is inadequate to the situation and to his mate's predicament and that weakens what Mr Baker can do with his Jered. Ms Whyman's Adele has warmth and energy, but it too keeps hitting Ruben's brick wall. The great Trevor Jamieson is calm and measured, but somewhat wasted in a role in which his 'client' refuses to open up, and hints about his past get only passing mention.
Dion Williams, a big man in his first stage role as Ruben, is both threatening and moving as he rants and rages, but the text locks him into a one-note characterisation – that is, until Ms Flanagan barrels onto the stage and supplies a challenge to his despair. She is just terrific. Her arrival is almost like an Act II and her confident performance and easy humour lift the play to another level. She gives us that hard-earned strength, the steel under the laughter, of the older Aboriginal woman and suddenly we see, through her, another side to Ruben's character. When Aunty has a go at him, he's cowed and keeps his eyes on the floor, but when she hugs him we are relieved and grateful.
Ms Flanagan also delivers one of the most powerful sequences in the piece when she tells the story of the night they found Ruben, a weeping, bloody child, alone on a road. Leaving aside the fact that surely Adele and Jered know this story already, it's gripping, full of vivid images and emotions. It's a very fine piece of writing in itself, but the writer, as a dramatist per se, may have a way to go.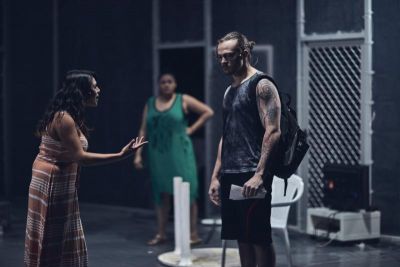 Dale Ferguson's set – a three-sided box plus ceiling of security door and grey plastic, streaked with streaming rain – encloses the action, but the depth prevents intimacy and it is cold and repellent, prison like. The intention is clear, but rather at odds with the central theme of the warmth of family, the only thing that can save Ruben from self-destruction. Chris Petridis' cold lighting likewise.
This is a heartfelt, pain-filled play even if its ending feels a little abrupt and tacked on. But what was the alternative? It's a work that is closely observed, but that can mean the inclusion of a little too much 'real life' – chiacking and teasing as well as argument – that becomes overstated and repetitious. The catalyst of Joey's suicide is almost a given. The play does not explore in any detail any reason for it. It is as if suicide by a young indigenous man is a given and then the play proceeds to show us how this family deals with it. And thus the play becomes more about the primacy of family rather than the psychology and context of indigenous suicide. That indeed seems to've been Ms Alberts' intention – to express love for this family in their pain – and to leave aside the bigger questions of endemic suicide. But perhaps the answers to those questions are all too obvious and what the play can depict is a haven in a heartless world instead.
Michael Brindley
Photographer: Tim Grey