A monkey baa production. Adapted from the novel by Tim Winton by Sanda Eldridge, Eva di Cesare and Tim McGarry. Directed by John Saunders. Lend Lease Darling Quarter Theatre. April 7 – 24, 2015
This is another funny adaptation by the clever folk from monkey baa and is great holiday entertainment for 4-10 year olds. It's colourful and fast moving and just long enough to keep the younger members of the audience entertained. As is usual with monkey baa's productions, there are some craft activities to engage the children in the foyer before the show – and the Darling Quarter Theatre itself is ideal for young audiences because the angle of the rake means even little kids can see the whole stage.
The story is all there in the title. One morning, in the town of Bugalugs, Skeeta Anderson wakes up to find he's lost his bottom. It's pretty embarrassing until he realises it's also happened to his parents, his friends, his teacher … in fact to the whole town, all 496 of them! No one can sit down, ride a bike, even balance properly. It's all pretty distressing and, eventually, Skeeta, with his friends Mick Misery and Billy Marbles, decide to find out who has stolen all the bums.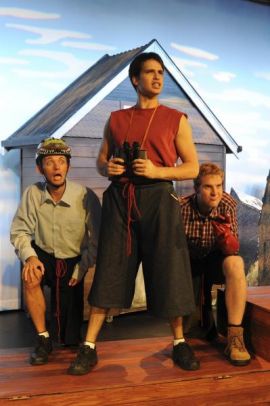 Obviously there are plenty of opportunities for puns, pratfalls, 'snot' and bum jokes, a few songs, simple dance routines and some acrobatic physicality, especially from Skeeta, played by a very fit and energetic Gideon Cordover. On stage for the full hour of the show, Cordover creates a vibrantly convincing Skeeta: a good friend, easy to get along with, trustworthy, fun, and full of enthusiasm.
Stephen Anderson plays his mate Mick Misery – and Mrs Anderson, Mavis Marbles and Constable Coma! Anderson continues to impress with his impeccable timing, pace, movement and the ability to slip so easily into different roles. He makes Mick a good mate – and the constable constantly culpable!
Mark Dessaix plays Billy Marbles who is a bit of a foil for Skeeta and Mick. He also plays Mr Anderson, Mrs Misery, the whacky school teacher, Mr Wally … and (shhh!) the bum thief himself! Dessaix moves through each of these roles with amazing dexterity and energy.
Timing is essential in a play such as this and not one of these three actors misses a beat. Costume changes are fast, as is some of the action, including moving some heavy boxes around the stage. As well, it is hard to capture and sustain the interest and belief of a young audience, and these three guys do it very well! Their facial expressions, their reactions to each other and the repetition of some of their lines, pranks and falls have as much 'kid appeal' as the 'bum' theme itself – and the jokes that have been slipped into the story by the co-playwrights.
This production is fun-filled and entertaining and, as with all of monkey baa's productions, a great way to introduce children to the theatre – or extend their theatre experience.
Carol Wimmer