Music: John Kander. Lyrics: Fred Ebb. Based on book by Christopher Isherwood. Hobart Repertory Theatre Society. Playhouse Theatre, Hobart. Director: Alan Jeffrey. Musical Director: Marian Bisset. Choreographer: Leiz Moore. April 13 – 28, 2012.
Cabaret, the Hobart Repertory Theatre Society BIG production for the year, started on the right note with the right vibe. Audience expectation of a big name show, famous as a movie, can have a negative side. Any disparity between expectation and the real thing was dispelled instantly. The pivotal Emcee character (Jeff Michel) commanded and gained audience attention immediately. With his seductive, raunchy smile and moves, Michel was riveting and totally looked the part.
The Kit Kat Klub chorus line was everything we wanted to see. Bendy girls and boys clad in dinky little lace and satin costumes, dancing and singing risqué routines are always fun. When the chorus lines are so evenly matched for talent and skill it's a special visual treat.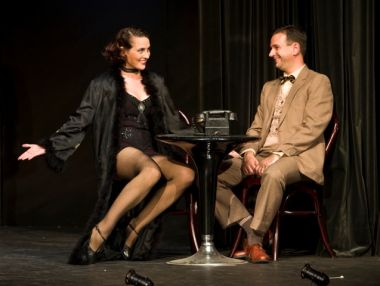 Skilled director AllanJeffrey and choreographer Leiz Moore gave us an excellent, well rehearsed cast who pulled together as a slick, supportive team to present a polished, integrated production. Understanding of the show and its themes was evident from the entire cast.
Hobart Repertory does ensemble work well, but Cabaret needs a show stopper for the Sally Bowles character. Lizzie Moore sings like a dream and delivered a beautiful performance as the ditzy but vulnerable Sally Bowles.
Supporting principals Cliff (Pitr Divis), Fraulein Schneider (Di Richards) and Herr Schultz (Paul Levett) gave full performances, maintaining accent and character throughout. Richards, with her amazing voice, was on song as usual.
The other major character - "Ze band", an excellent group of musicians under the direction of Marian Bisset, was perched on a platform of the two-storey set throughout the production. A mostly brown set, with mostly black and white costumes, and the odd use of bright colour, as in the red in the swastikas, introduced another dramatic element. Music, set, stunning costumes and clever lighting and sound effects added to the whole theme. Cabaret is a top notch, high standard show. I need to see it again!
Merlene Abbott
Photographer: Wayne Wagg