Adapted by Ronald Hamner and Phil Park. From the Stage Play by Charles K Freeman after the Warner Bros Film. Lyrics by Paul Francis Webster. Music by Sammy Fain. One Eyed Man Productions in association with Neglected Musicals and Hayes Theatre Co. March 8 to April 9, 2017.
This is a rip-roaring production of a creaky musical which has some surprising resonance to today. Members of the audience immediately felt they been transported back to the Deadwood Saloon, by being led through the side of the venue directly onto the stage, before being seated. It gave the production the feel of an immersive theatre event, with audience participation one of its cutest features.
The intimate feel was further enhanced by the decision to use no microphones and have an orchestra of one on-stage saloon bar piano, save for the occasional interlude of a brass instrument by members of the cast.
The direction by Richard Carroll skilfully papered over (as far as possible) the creaky bits of this musical which began life as a movie starring Doris Day in 1953. However, some of the references to shooting Indians and jaw-dropping attitudes to women couldn't be hidden.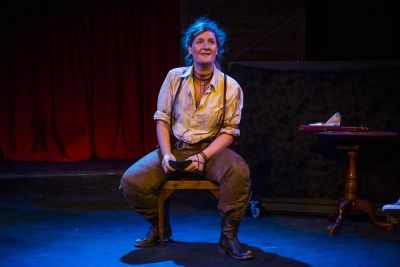 This production embraced the clichés of cheesy amateur theatre choreography providing some of the funniest moments, when over wrought hand gestures were milked to great effect.
Calamity Jane was a real life 19th century person with a huge personality. The film and musical side step some of the more unsavoury aspects of her life – leaving the outline of a gun toting, tall-tale telling, male dressing cowgirl who was eventually tamed. In this role Virginia Gay was a force of nature. She was intimidating, lusty and sweet.
The first object of her affection Lt Danny Gilmartin (Matthew Pearce) was 'exploited' by having whisky splashed on his bare chest. Another surprising erotic moment, which apparently required no updating of the script, involved the scene where Calamity and Katie (Laura Bunting) explore their feminine side whilst redecorating a room in the song 'A Woman's Touch'.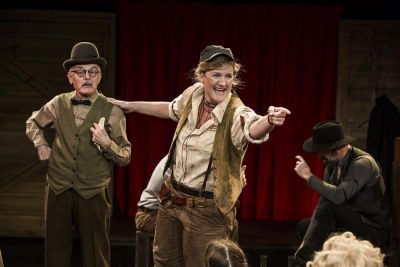 Providing many of the funniest cameos throughout the musical was Rob Johnson as Francis Fryer/Doc Pierce. His energetic and charismatic moments always entertained. At one point he had to sing a song at the bar which he introduced as being from the musical Calamity Jane.
Some lucky members of the audience got to sit at tables on the stage. On opening night these included a few icons of the industry. Being able to watch their reaction, and those conscripted into the musical, added another layer of enjoyment to the experience.
If you ever see a production of Calamity Jane make it this one.
Review by David Spicer
Photographer: John Mcrae