By Georges Bizet. Opera Australia. Director: John Bell. Conductor: Brian Castles-Onion. Choreographer: Kelley Abbey. Arts Centre, Melbourne. May 4 – 26, 2017
This was a polished production of the world's most popular opera. I've seen innumerable productions over the years, and this was one of the best.
The set was impressive; a dirty town square with roller doors for entrances to the cigarette factory and other areas. The set remained for the whole opera and worked very well. A Combi Van was driven on to become a pop-up café for act 2, the smuggler's lair became a warehouse in act 3 and the town square was outside the arena for the bull fight in act 4. Very clever.
There were some nice touches. I liked the freeze, on a musical cue, when a spotlight flashed through the windows of the warehouse in act 3, and at the end of that act Escamillo opened a door at the back of the stage and waited for Carmen to walk to him. However, as so often happens, Jose was left to ask the officers to take him away to prison after killing Carmen, when there was no one else on stage at the end of the opera.
The opera started well with a vigorous overture from Orchestra Victoria under Brian Castles-Onion and were a great support to the singers. Then the most exquisite singing from the male chorus! This set the tone for the opera which had an elegance not always associated with this genre.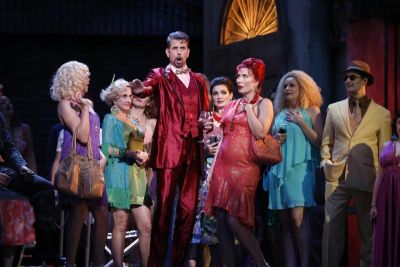 The experienced Carmen, Rinat Shaham, was as sexy as any I'd seen, with a beautiful voice and rich lower register. Dmytro Popov, her José, was a good-looking young tenor with a lovely voice, and the two worked very well together.
The loudest applause of the night was reserved for petite Stacey Alleaume, who was a vulnerable Micaëla. I've watched her develop from early eisteddfods and am delighted to report that her voice has increased in size and beauty. It was a touching performance.
Shane Lowrencev was an elegant and exceptionally tall Escamillo, while Christopher Hillier and Adrian Tamburini made an impact as Moralès and Zuniga. There were a number of adult and boy dancers who really added to the excitement.
This was a refreshing new look at an old warhorse.
Graham Ford
Images: Rinat Shaham as Carmen, Christopher Hillier as Moralès and the Opera Australia Chorus, & Sian Pendry as Mercédès, Shane Lowrencev as Escamillo, Jane Ede as Frasquita and the Opera Australia Chorusin Opera Australia's 2017 production of Carmen. Photographer: Jeff Busby.