By Richard Rodgers and Oscar Hammerstein II. Babirra Music Theatre. Director: Chris Bradke. Musical Director: Ryan Jacobs. Choreographer: Di Crouch. The Whitehorse Centre, Nunawading. October 11 – 19, 2013.
There was much to like about Babirra's Carousel, though it didn't quite scale the heights they have been achieving recently. The opening was impressive with a full size abstract carousel being erected by Billy Bigelow on the revolving stage with flashing lights and two dimensional horses. It was a lot of effort for a few minutes.
The revolving stage occupied most of the stage area and was used quite extensively with great effect. It also meant that some scenes were played with a bare stage, but effective lighting made for a successful show.
Carousel lives and dies by its Billy Bigelow and Andrew Pennycuick was a strong candidate. I remembered him from The Pajama Game and some eisteddfods and his beautiful voice, good looks and strong acting was just what was required. He moved awkwardly, which made Billy look unsure of himself and suited the part. I would have liked more contrast between "My boy Bill" and "My little girl" in the "Soliloquy", but this may have given more depth to the character than the director wanted. He showed he was capable of this with a poignant reprise of "If I Loved You" at the end.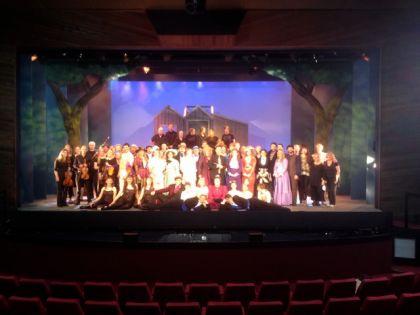 Alexandra Sutherland was a lovely Julie Jordan with a beautiful voice and Lauren McCormack a feisty Carrie Pipperidge. She worked well with Brett O'Meara as Enoch Snow. Felicity Eastwood played a sympathetic Nettie and made "You'll Never Walk Alone" the highlight it should be. Among the myriad of minor characters Lee Threadgold stood out as a brooding Jigger.
The small chorus was well balanced, the members being young and energetic. The choreography was tight, the women harmonized beautifully in the "Mr Snow reprise" and the men shone in "Blow High, Blow Low". The costumes were effective.
Possibly the highlight of the show was the sound, an area I am often critical of. Barely a word was missed and it made for an enjoyable experience for the audience. The one weakness was the conducting. There were several instances in the first act when the orchestra and singers parted ways, and in the second act they were almost a bar out, but did manage to recover. Perhaps some critical players missed a rehearsal.
But I expect this would be an opening night glitch and the rest of the season will reach the dizzy heights we expect from Babirra.
Graham Ford