Rodgers and Hammerstein. WAAPA Music Theatre Students. Directed by Jason Langley. Regal Theatre, Subiaco, WA. 16-23 June, 2018
Rodgers and Hammerstein's Carousel has darker overtones than its contemporary shows, but director Jason Langley's production, featuring WAAPA's Second and Third Year Music Theatre students, is an especially dark edged incarnation.
A particularly difficult musical to stage in the #metoo era, as it forgives, if not condones domestic violence - this production of Carousel is raw, the violence is open (thanks to excellent fight choreography by Andy Fraser) and the difficulties of loving an abusive man are well portrayed. Set in a period ranging from the Vietnam War to the mid 1980s, a more recent setting brings the events closer to our audience's experience.
With much of the production crew, the cast and the orchestra being students, WAAPA's biggest production of the year is an excellent showcase of much of what WAAPA can offer. While the set and lighting are designed by guest artists (Tyler Hill and Trudy Dalgliesh), they are aided by student assistants; the outstanding costumes were created by a student team, led by student designer Eilish Campbell, sound was designed by Maddison Bradfield, Stage Management was led by Brooke Verburg, to name but a small percentage of over seventy students on the creative and production teams.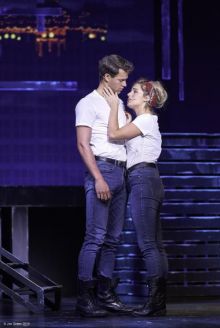 David King leads an eighteen-piece orchestra, all of whom are students, who play with precision.
Amy Fortnum is a likeable, sympathetic Julie Jordan, who plays the fifteen year age range of her character convincingly. Her best friend Carrie Pepperidge is played with a lovely sense of fun by Jessica Clancy.
Andrew Coshan plays both sides of Billy Bigelow, giving him both apparent charm and frightening volatility, with a beautifully resonant voice. Todd Peydo is a wonderfully villainous Jigger Craigin. Kurt Russo provides a lovely contrast as the awkward but reliable Enoch Snow.
Stacey Thomsett brings depth to the fleeting appearances of Mrs Mullin, and Elise Muley gives a mature performance as 'Aunt' Nettie Fowler despite her obvious youth - with her rendition of "You'll Never Walk Alone" a highlight.
Alessandra Tonkich gives us a new perspective on the Starkeeper, making this traditionally male role her own, and Alexandra Cornish makes a lovely 15 year old Louise Bigelow - her late in show appearance worth the wait.
Both the second and third years are strong cohorts, with strong vocal and dancing performances. A beautifully choreographed prologue (Cameron Mitchell), including a gorgeous carousel sequence, sets the standard for strong work throughout.
While the violence and the occasional risqué moments may have been somewhat shocking, Carousel is an excellent public display of WAAPA's high standards and a snapshot of the future of the industry. While not for young children, or the overly sensitive, Carousel is a wonderful chance to see high quality home-grown Musical Theatre.
Kimberley Shaw
Photographer: Jon Green