Book by Terrance McNally. Music by Marc Shaiman. Lyrics by Scott Wittman and Marc Shaiman. LPD and Hayes Theatre. July 19 - August 18, 2019.
At the heart of this musical is a cracking story about a precocious teenager who was an Olympic Gold medal standard thief. Frank Abagnale Jnr was world class when it came to forging cheques, impersonating a pilot, pretending to be a paediatrician, escaping from custody and passing a bar exam (which he did by studying not cheating), all before he had left his early twenties.
Made internationally famous by the movie starring Leonardo di Caprio and Tom Hanks, the musical didn't set the world on fire when it debuted on Broadway in 2011 - despite having the composer/writing team of Hairspray. But up close and personal in the Hayes Theatre Catch Me If You Can is very slick entertainment.
The cracking story is matched with a cracking cast. Jake Speer looked every inch the suave scoundrel Frank – able to melt the heart of girls with a tip of his pilot's hat or twirl of a stethoscope. The pivotal relationship in the musical, as per the film, is that between Frank and the Police officer chasing him - Carl Hanratty. The FBI agent is like a caring father, wanting to capture him before he goes down in a hail of bullets.
In that role, Tim Draxyl tore up the stage with his silky voice and on-stage charisma. Tim even managed to make dramatic sense of the awkward placement of a song when the two men are speaking on the phone on Christmas Day.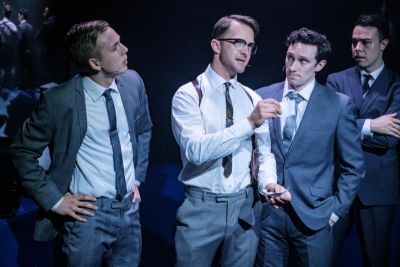 Stage veteran Simon Burke was charismatic in the role of Frank Abagnale Senior but especially shines in his portrayal of Roger Strong, the father of Frank's fiancé. Females play secondary roles in this musical but grabbing most of her opportunity for a solo was Monique Salle as one of the rogue' many flames.
There are many glamorous set-pieces in the musical, whether it be a chorus of air hostesses, nurses or FBI agents dashing and darting across the stage. Director and choreographer Cameron Mitchell devised a tight and cute dance routine.
A sprinkling of special effects added to the spectacle in the form of lights above stage which ignited in sequence with the sound fx of a jumbo jet flying overhead. Dashing period costumes, a simple but effective glass mirror set and a tight four piece band all aided the impressive production.
David Spicer
Photographer: Robert Catto