Music: Andrew Lloyd Webber/Based on Old Possum's Book of Practical Cats by T.S. Eliot. Queensland Musical Theatre. Director: Kade O'Rourke. Musical Director: Julie Whiting. Choreographer: Jo Badenhorst. Schonell Theatre, St Lucia. 25 October – 3 November 2019
The only things that matters in a production of Cats is can Grisabella sing "Memory" and does the choreography stack up. Queensland Musical Theatre ticked both boxes in a production that was ablaze with energy, dance gymnastics, and vocal expertise.
First kudos must to go to Jo Badenhorst and her well-drilled choreography, not easy moving a forty-bodied ensemble. Next up let's salute Renee Milton and Cat Schwarten for costumes and wigs. Take a bow ladies they were fantastic.
Julie Whiting and her band of musos also deserve admiration for their excellent job in the pit. Everyone knows the Cats score (if they don't they must have been living on a desert island for the last forty years), and the sound Whiting and Co produced was as good as any I've got on CD.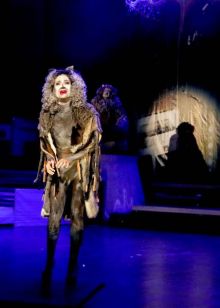 Gerard Livsey and team also get a round of applause for their rubbish-tip set, which even included some theatrical cast-offs - a Phantom mask and chandelier. Nice Lloyd Webber touch boys.
Finally, let's acknowledge a great cast who gave 110% every time. Newcomer to Brisbane Alison Mckenzie was a distraught, faded Grisabella whose performance of "Memory" was touching with pathos. It was indeed memorable and also a nice touch to have the former 'glamour cat' dressed in Manolo Blahnik heels. Sex and the City's Sarah Jessica Parker would have been super proud.
David McLaughlin's Munkustrap was nimble and appealing all over the stage almost like an MC introducing a series of acts, whilst Darcy Rhodes' Rum Tum Tugger had the necessary cocky swagger of a tom-cat. His "Mr Mistoffelees" was particularly adept, while Joshua Collins in the actual role displayed some impressive balletic pirouettes. Robert Carr's Bustopher Jones made the most of his number, as did Puawai Herewini with "Old Deuteronomy," and Eric James as "Gus the Theatre Cat," whose remembrances added some pleasing nostalgia to the mix.
This production also included the unfamiliar "Ballad of Billy McCaw", which was dropped during the 21 year London run. A few sound problems on opening night didn't detract from the fact that this was a very good production of a very difficult show to mount. That QMT did it with such polish was a credit to all concerned.
Peter Pinne