Creator and Artistic Director Normand Latourelle. The Big White Top on Southbank (Vic). Director and Visual Conceptor Erick Villeneuve. Composer Michel Cusson. Costumes Manon Desmarais. Melbourne: 24 July – 18 August, 2013, Adelaide 16 – 27 October, Perth 18-29 December
A medieval castle-circus tent hybrid is the latest addition to Melbourne's skyline. Standing 35 metres tall with a span in excess of 2,440 square metres The Big White Top announces to patrons that Cavalia is something special. And with Normand Latourelle (Cirque du Soleil) holding the reins, what else would we expect?
Cavalia hails from Quebec in Canada. After nine years and 2 000 performances across the globe the numerical values of this travelling juggernaut are significant. You don't need to love horses to enjoy this show, but you will love them by the end.
Forty-eight horses across eleven breeds are the stars, and what's more they're bilingual, understanding commands in English and French. The human contingent, acrobats, aerialists, dancers, riders, musicians, is drawn from 10 nations, including one Australian.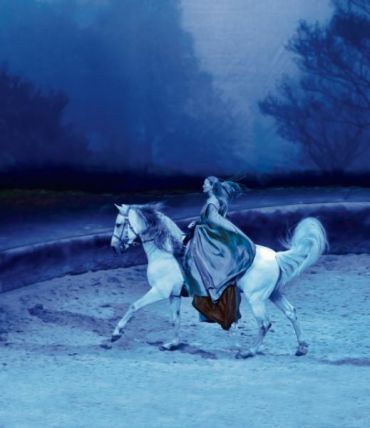 Here is why you should get along:
1. It is Beautiful
2. It is Unique
3. It is Astonishing.
That's it – review done and dusted! Only it is hard to stop enthusing about this show.
Highlights include the mesmerising aerial display in 'La Vida', thrilling 'Roman Riding' featuring riders standing atop two horses simultaneously, and the heart-breakingly beautiful 'Libertad'. The music is unique and intriguing, and just as important as any other element – bravo!
The show oscillates between energetic and thrilling, from precision mirror-moves, boisterous acrobatics, human sculpture, bareback riding, and equestrian ballet (yes, really!). All is ethereally lit with expansive panoramic projection.
On the down side the seating configuration means if one of the 2 000 patrons need to exit, they must parade across the front of the stage space.
The only flop on opening night was the western cowboy interlude. Its placement, too late for the youngest patrons, barely raised a ripple. The otherwise enthralled Melbourne audience simply didn't get the joke.
From aesthetic beauty, romance and positively Narnian costuming, to horses thundering past carrying riders in incongruous positions, there's plenty to please here. I wonder what insuring one's head against the strike of a horse's hoof would set you back. This is an extraordinary spectacle you have but one chance to see. Get along if you can.
Lucy Graham