By Marvin Chernoff. JYM Theatre Co. Director: Brendan Cohen. Phoenix Theatre, Elwood. September 1-9, 2012
"Chaim" means life in Yiddish. It's also the name of the central character in this gentle play about an old Jewish man telling the story of his life to a lonely young gentile woman in a park in Brooklyn. Writer Marvin Chernoff is not Woody Allen or Neil Simon, but the play has its own charm, humour and poignancy, hence it is a fitting first for JYM, who are noted for their musicals.
There is much to love about this production, along with a few disappointments. Opening on Friday, and with a break for the Sabbath, it was only the second performance that I saw on Sunday. Naturally, as with most shows, it suffered "second night blues." Energy levels were down in Act One, and many of the cast were scrambling mentally to find the next line, Barry Friedlander in particular (Hardly surprising since he is on stage for two hours and has the bulk of the dialogue). The Brooklyn accent tended to drift and give way to some Aussie vowel sounds as well. But given how enjoyable the show is despite these minor shortcomings, it would be wonderful to see it from today on, when the pace will have picked up and actors will be more comfortable with cues and dialogue.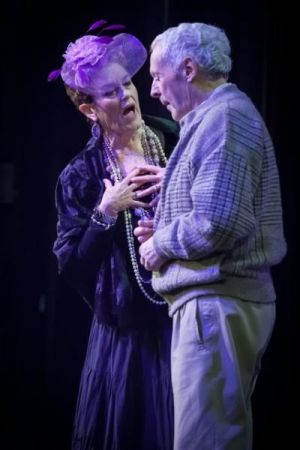 I have been a fan of Barry Friedlander's for a long time, well before Funky Squad and Ocean Girl on the telly. His presence and professionalism on stage are an asset to any company, and there are times when he is truly moving. Ruth Yaffe, as his wife Tzwarah (it means sorrow), a survivor of the holocaust who tells her husband she cannot love, and then secretly falls in love with him, is excellent throughout. The character has the greatest journey and the changes, some of them very subtle, are always believable. John Konewka as Chaim's friend Oscar Birnbaum, who always has a joke ready, plays his broad schtick with great confidence, and Sara Olcha is a delight as Pearl the Matchmaker (shadchen) and several other roles. Her finesse as an actress adds gravitas to a role which could have been a caricature.
The three younger actors are in heady company but Jess Newman shines as Reuben Shotsky, Chaim's hapless son and would be actor. There's a little of a young Woody Allen in his performance. He also composed the music and played nice jazz piano, an asset to any company. Paula Brown, as Rachel, is suitably neurotic as the daughter trying to fond herself and win approval at the same time; a nicely measured performance. Finally (but not last) Toni Joel, in the thankless role of Kelly Burke, the gentile girl whose main function is to be Chaim's sounding board, brings charm and warmth to those scenes where she has little to do but listen.
Production values are good, though there's dead spot downstage centre which needs some lighting, even a pin-spot for a key scene of Chaim's. This is a thoroughly enjoyable piece of a theatre from a company which deserves great community support. And, as the saying goes, you don't have to be Jewish!
Coral Drouyn
Images (from top) Toni Joel, Barry Friedlander & John Konewka; Sara Olcha & Barry Friedlander; Jess Newman and Paula Brown & Ruth Yaffe. Photography: Des McMillan.