Based on the novel by Roald Dahl. Book by David Greig. Music by Marc Shaiman. Lyrics by Scott Wittman and Marc Shaiman. John Frost, Craig Donnell, Warner Bros Theatre Ventures, Langley Park Productions and Neal Street Productions. Her Majesty's Theatre, Melbourne. Opening Night: August 15, 2019
The magic of Roald Dahl's much-loved children's novel Charlie and the Chocolate Factory has been reimagined into a spectacular musical, now in Melbourne for a spellbinding season at Her Majesty's Theatre.
There is almost certainly not one of us out there that has not seen the enchanting original film adaptation entitled Willy Wonka and the Chocolate Factory (Mel Stuart, 1971), or maybe the creepily eerie second version, directed by Tim Burton in 2005. Now the musical, first staged in the West End, London in 2013, followed by an updated production for Broadway in 2017, has landed on Australian shores under the direction of Jack O'Brian.
There is much anticipation in the air as the crowds gather in the foyer. Everyone loves a heart-warming rags to riches story, and this version is a strikingly effervescent crowd pleaser, rich in dazzling colours.
Poor boy Charlie Bucket, lives with his widowed mother and two pairs of grandparents in a decrepit house on the outskirts of town, in full view of the Wonka chocolate factory. He spends his time making paper planes and inventing chocolate recipes. Jubilant Lenny Thomas starred as Charlie Bucket on opening night (he shares the role with Benjamin Belsey, Edgar Stirling, Elijah Salvinskis, Lachlan Young - all l am sure, equally as talented as each other).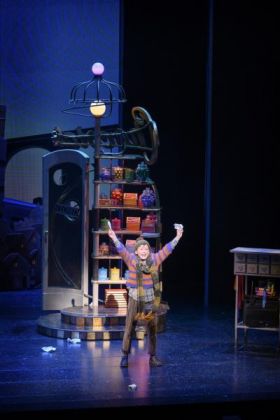 Paul Slade Smith's svelte, contorting, tongue-twisting Willy Wonka introduces us to his electrifying confectionary world, opening the show with 'The Candy Man' (Newley and Bricusse). The score includes "Pure Imagination" and "I've Got A Golden Ticket" from the original film version, alongside catchy new songs by Marc Shaiman and Scott Whitman.
There are clever character alterations that are befittingly suitable for a modern day young audience. It begins with an incognito Wonka, who runs his candy shop directly opposite his factory. He talks enterprise and franchise with the spritely and highly intelligent Charlie Bucket, who regularly bides time in the shop on his way to buy mouldy cabbage for supper from the roving pushcart seller Mrs Green (Joseph Naim).
As we all know, Wonka decides to run a global competition that sees five lucky Golden Ticket recipients win a factory tour. Charlie is lucky enough to win the final ticket on the final day, and takes along Grandpa Joe (Tony Sheldon) along. Together they climb on board for a Wonka ride of a lifetime, taking them on a wild journey full of crazy foibles and mischievously entrancing sugary mishaps. Sheldon is superb as the eccentric old granddad, spouting homegrown truths in wisecracking fashion.
In this revamped version, we see Veruca Salt (Karina Russell) as a spoilt Russian ballet dancing princess, pampered by her super wealthy dad (Stephen Anderson), catapulted down the nut chute by the menacing big dark squirrels (ensemble dancers) during her nutcracker dance routine. Violet Beauregard (Jayme-Lee Hanekom) is a gum chewing pop starlet from sunny Los Angeles, and despite her predictable fate, she remains an audience favorite as the inflatable exploding "blueberry". This adds a freshness to the much-loved Wonka characters.
Spellbinding vibrancy and color stretch to all corners of the stage through magnificent scenic and costume design (Mark Thompson); masterfully wicked video and projection (Jeff Sugg); amazing puppetry design (Basil Twist) and clever choreography (Joshua Bergasse), including the infamous orange faced Oompa Loompas cheerfully singing and dancing their quirky sinister morality tales.
This is a must-see show!
Flora Georgiou
Photographer: Heidi Victoria