Music by John Kander. Lyrics by Fred Ebb. Book by Fred Ebb and Bob Fosse. John Frost, Suzanne Jones in association with Barry and Fran Weissler. State Theatre, Arts Centre Melbourne. Dec 14, 2019 – Feb 23, 2020
Chicago the Musical, offering more razzle-dazzle sensationalism than any Broadway show, ever, has finally hit Melbourne for Summertime. Expect a non-stop razzle dazzle of shimmering, sordid sassiness.
During the golden jazz age (the 1920s), Chicago was a breeding ground for notoriety and madcap entertainment, also renowned for criminal activity, including Al Capone's hey-day and the rise of the "celebrity criminal". Maurine Watkins, a courtroom reporter and writer, penned the original 1926 play (which provided the basis for the 1976 musical) based on a series of high-profile murder cases that generally involved women accused of killing their husbands and or lovers. The press and public alike were riveted.
Fred Ebb co-wrote the musical's book with original director /choreographer Bob Fosse, responsible for the show's hybrid mix of jazz-age dance featuring vaudeville, tap and burlesque. Choreography for the1996 Broadway revival (the longest-running American musical in Broadway history), on which the current Australian production is based, is described as "in the style of Bob Fosse".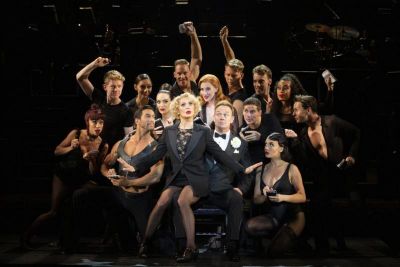 Alinta Chidzey plays the volatile brunette murderess Velma Kelly, combining with the high-octane ensemble of dancers to open the show with a smooth rendition of "All That Jazz", shaking, rattling and rocking the house.
Chidzey is a real marvel. Classed as one of "Australia's most captivating leading ladies and a multi award winner", her impeccable song and dance routines are really quite something. She has the killer prowess of a black widow spider, bedazzling the audience with some amazing legwork.
Natalie Bassingthewaighte, equal billed with Chidzey, shakes her booty with sassy pride as the ditzy peroxide blonde murderess Roxy Hart. As the evil cutie-pie that kills her lover and dupes her husband, Bassingthewaighte is crookedly hot in "Roxie", before totally kicking ass with Chidzey in "Hot Honey Rag".
There is no turning back for Roxie and Velma, the dark angels heading to purgatory, but the shady lawyer Billy Flynn (Jason Donovan) has it covered. As the slick, sleazy money hungry lawyer, Donovan's his singing does occasionally disappoint, but that said, his stage presence impresses and he is great with the girls in "All I Care About Is Love" and with the ensemble in "Razzle–Dazzle".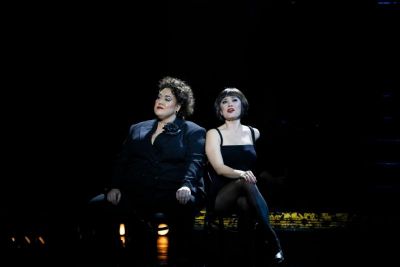 In the slammer, Velma and the female dancers deliver a magnificent seedy rendition of "Cell Block Tango", but when the queen bee Matron Mama Morton (crowd favorite Casey Donovan) rocks up, she shakes everyone down with "When You're Good To Mama", belting out her songs with a fierceness that you would not want to cross.
The very impressive jazz orchestra, located centre stage, are included in the action, with their own jazzy instrumental Entr'acte leading into Act Two.
Chicago is a flawless musical and here in Melbourne it has come up trumps - a great show with an all-round team of wonderful performers.
Flora Georgiou
Photographer: Jeff Busby