Book by John Caird (Based on a concept by Charles Lisanby). Music and Lyrics Stephen Schwartz. Magnormos (Vic). Director: Aaron Joyner. Musical Director: Cameron Thomas. Melbourne Recital Centre. Monday 23rd September, 2013.
Children of Eden is all about the beginning, but it played last in the triptych of Stephen Schwartz's musicals, preceded by Godspell and Pippin, all presented by Magnormos this September.
The narrative focuses on the two Biblical creation stories in the book of Genesis: Adam, Eve, the Garden of Eden, their banishment into the wilderness, and their sons Cain and Abel in the first half, and then the story of Noah and the flood after interval.
Comparisons are drawn between the two stories, separated by 1,000 years, by double casting Adam/Noah (David Harris), Eve/Mrs Noah (Laura Fitzpatrick), and others, and linked to humanity's responsibility for animals. God (Marty Rhone) is omnipresent throughout. The lesson is humanity fails to learn from former mistakes.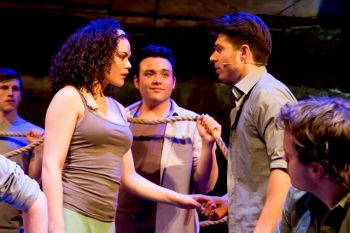 Melbourne's Recital Centre is not the ideal venue for this work, however performances are sympathetically played and the singing is warm. Soloists and singing ensembles were clean and bold. Eve's encounter with the Serpent, In Pursuit of Excellence, a quintet of harmonious delight, and The Hardest Part of Love (David Harris and Marty Rhone) were my personal favourites.
Heavy on judgement-punishment theology, the fierce uncompromising moral tone subsides into something gentler towards the close. Patriarchal language is somewhat distracting, and the positing of women as vessels of evil is sigh-worthy. But whether you're a literalist or not, Eve's legacy remains a reality for women in 2013.
Despite being the composer's self-confessed favourite, Children of Eden has never enjoyed a Broadway premiere. I'd wager this is due to the high moral tone, rather than this musical's merit. An enjoyable encounter.
Lucy Graham