Music and Lyrics by Richard M Sherman and Robert B Sherman. Adapated for the stage by Jeremy Sams and Ray Roderick. Based on a story by Ian Fleming. Producer: Tim Lawson. Director: Roger Hodgman. Capitol Theatre, Sydney from November 17, 2012. Her Majesty's Theatre, Melbourne from January 30, 2013.
Sometimes an off-the-production-line vehicle needs a few kilometres under its belt to iron out those new car bugs. Such was the case with Chitty Chitty Bang Bang, which was mildly afflicted by audio gremlins and a lack of pace in the first act on opening night.
No doubt as the production flies around Australia, these will be ironed out and Chitty will be purring like a well-oiled Jaguar.
The audience was determined to have a good time. Clapping (and perhaps a few also humming) along to the familiar tune even during the overture.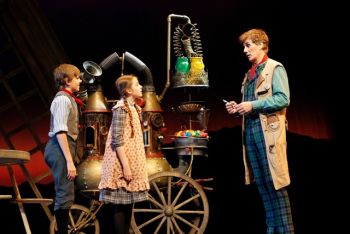 The star of the night was of course the million-dollar car. She (or is it a he) flew like a wizard, shone, surfed and sparkled against the stars, even out-performing some of the humans on stage.
David Hobson as Caractacus Potts was solid, but he could have been a little more on the eccentric side for my liking.
Dick van Dyke, who played the role in the movie, was no Laurence Olivier but he had a charisma that was lacking in this production. There also didn't appear to be many sparks going off between Mr Potts and Truly Scrumptious played by Rachael Beck.
The minor roles, though, are the most delicious for performers in this musical. As a child I had many nightmares after watching Sir Robert Helpmann's portrayal of the child catcher. I felt the chills return when Tyler Coppin stepped onto the stage in this role.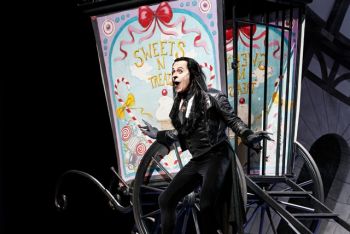 Peter Carroll hit just the right notes as the eccentric Grandpa Potts. Alan Brough as Baron Bomburst and especially Jennifer Vuletic as Baroness Bombust were every bit as funny as the actors in the original movie.
Likewise Philip Gould as the Toymaker was channelling the charming original performance of Benny Hill.
My nine year old loved the entire show and this grand pantomime is a treat for parents with young children.
David Spicer
Stage Whispers editor Neil Litchfield adds:
Well-loved 1968 film Chitty Chitty Bang Bang has captivated generations of children, and now, happily, the stage adaptation returns classic musical comedy to the Sydney stage, spreading the joy for kids and families, and a nostalgic glow for the inner child in audience members of most ages.
Musical comedy demands a vivacious, engaging leading lady, and Rachel Beck, one of our real musical theatre stars, exudes those qualities in abundance. The role of Truly Scrumptious provides lots of room for plucky character, but restricted solo vocal chances, however Rachel utterly charms with two big second act opportunities.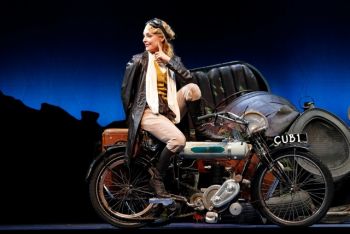 The warmth and tenderness of David Hobson's relationship with the kids was a special delight, nowhere more touching than in the gentle, beautifully sung lullaby Hushabye Mountain. Near the show's close, the counterpoint duet with Rachel Beck, another special highlight, rounds out the performance.
On the comedy front I'll add a special mention to the hi-jinx of Vulgarian spies Goran and Boris to the performances already mentioned. George Kapiniaris and Todd Goddard delight with broad pantomime / vaudeville style fun from their first entrance.
Famously the car flies, providing the evening's sheer theatrical magic, but when it has four wheels on the ground, technology takes the back seat to some nice bits of old fashioned schtick sight gags from the cast. There's more pure no-tech musical comedy including a dance craze, an assorted pack of loveable dogs and a mob of urchin children.
For lovers of musical comedy, Chitty Chitty Bang Bang is an escapist treat with a gentle moral. Like David's nine-year-old, my inner child loved the whole show, despite of the glitches.
Production images by Jeff Busby except top image of flying car by Kurt Sneddon.