By Marvin Hamlisch, Edward Kleban, James Kirkwood and Nicholas Dante. Producer: Tim Lawson. Her Majesty's Theatre, Melbourne. February 4 to March 3, 2012.
A Chorus Line made its Broadway debut in 1975, and showed no sign of stopping. Set in a Broadway audition where dancers reveal their private passions and personalities, it garnered Tony Awards, and even the 1976 Pulitzer Prize for Drama.
Could a 70s-era musical with leotards and sparkly gold costumes thrill audiences in Melbourne in 2012? You bet. Australian producer Tim Lawson was right when he believed audiences who love So You Think You Can Dance would embrace A Chorus Line. The show is certain to be sold out at Her Majesty's Theatre in Melbourne, and it has only just opened.
A Chorus Line opens with an eye-popping audition scene involving 28 dancers, lead by choreographer Zach (Joshua Horner) and assistant Larry (Gerrard Carter). The company sings "I Hope I Get It" as Zach divides the weak from the strong. One male dancer has the moves but can't take his eyes off his feet, and is eliminated. We relate to the ones who stumble, and are in awe of those who keep going. From a whirlwind of legs and arms, 17 dancers remain. They stand together in a line, holding smiling publicity photos of themselves, ready for the next phase of the audition.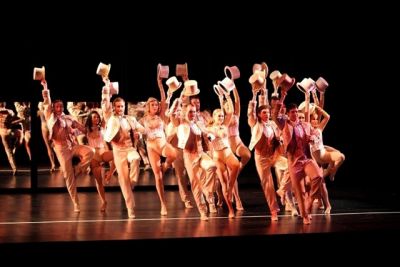 Zach goes offstage and his voice booms through the auditorium for much of the show, instructing each dancer to reveal their private selves. Mike (James Maxfield) jumps and flips like an acrobat as he sings the cute "I Can Do That". Sheila (Debora Krizak), at the end of her career at only 30 years of age, tells how ballet brought her relief from an unhappy family life. Kristine (Sian Johnson) confesses that she can't sing a note, and shares a funny, rapid-fire duet ("Sing!") with fellow dancer and husband Al (William Centurion). Val (Hayley Winch) has resorted to plastic surgery to catch the eye of choreographers, and makes no apologies for it with the frank and funny "Dance: Ten; Looks: Three (Tits and Ass)".
Some of the stories told by the dancers have lost their impact over the decades. But this show is all about singing and dancing, and this is where A Chorus Line soars. Michael Bennett's award-winning choreography has been restaged here by Baayork Lee, who had performed in the original Broadway production, and the results are spectacular. The choreography is sharp and clean, and the dancers so strong and precise with their timing and togetherness, especially in the big group numbers. The layering of stories with dance is also very effective. When choreographer Zach confronts dancer Cassie (Anita Louise Combe) over why she left him many years ago, we see the dancers rehearsing the show-stopper, "One", in the background. Their hushed singing, and tilting of top hats hints at the final spectacle that is to come.
Other highlights include a feature song and dance by Richie (an astounding Kurt Douglas) which brings the show's funky, disco influence to the fore. Diana (Karlee Misipeka) is another standout, providing a lot of the show's heart when she sings the beautiful "What I Did For Love", expressing no regrets for choosing a career in dancing.
A real crowd-pleaser, and you won't forget or regret seeing it this time around.
Sara Bannister
Further Reading
Our interview with Gerrard Carter.
To keep up with the latest news and reviews at Stage Whispers, click here to like us on Facebook, or follow us on Twitter.