Music: Marvin Hamlisch. Lyrics: Edward Kleban. Book: James Kirkwood & Nicholas Dante. Director: Baayork Lee. Musical Director: Paul White. Tim Lawson Production. Lyric Theatre, QPAC. From 16 Nov 2012
After playing sell-out seasons in Adelaide, Melbourne, Sydney, Perth and Singapore, this new production of A Chorus Line finally arrived in Brisbane. I was apprehensive about seeing it, having fond memories of the original Broadway production which I'd seen in 1975, early in its record-breaking 15 year run, and of the original Australian cast in 1977 (the only times I have ever seen the show), but as it turned out I need not have worried. Producer Tim Lawson had done the work proud. Not only is it exhilarating, but exciting musical theatre.
From the opening when the repetitive piano bursts into the full orchestra, the build of "Hello Twelve, Hello Thirteen, Hello Love," to the finale with "What I Did For Love" and "One" I was captivated and moved. Yes, the concept seems dated (seventeen dancers on the line for a job), and the music's wrapped in a 70s time-warp, but emotionally the show still packs a punch.
Michael Bennett's original choreography was the hit of the night. Brilliantly recreated by original Broadway cast member Baayork Lee (who has made a career out of staging productions of the show around the world), the attention to detail elevated the musical to a higher level - this group were one spectacular chorus line.
Since the show opened in Adelaide there have been four cast replacements; as Mike, Matt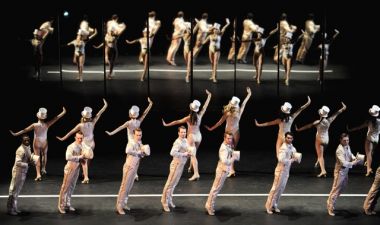 Holly did all of the moves on "I Can Do That" but it wasn't thrilling, Sage Douglas' Val looked the part and almost made "Dance: Ten; Looks: Three ("Tits and Ass") into a showstopper, Ross Hannaford was a believable Paul, and Deone Zanotto's Cassie danced well but never looked more than a member of the chorus. Performance-wise Debora Krizak as Sheila, the almost over-the-hill-at-30 dancer, almost walked away with the show. Statuesque and brittle, she never missed a beat or a laugh. Good work also came from Josh Horner (Zack) and Karlee Misipeka (Diana) who scored with "Nothing" and "What I Did For Love." Paul White's musical direction was spot on, but the sound mix left a lot to be desired.
Next stop is London where Lawson is opening a production of the show at the Palladium in February. If the standard is as good as this, London will love it.
Peter Pinne
Photographer: James Morgan