Music: Marvin Hamlisch. Lyrics: Edward Kleban. Book: James Kirkwood & Nicholas Dante. Beenleigh Theatre Group Queensland. Jan 31 – Feb 15, 2020.
A Chorus Line is one of the most beloved musicals in the modern canon. The fifth longest-running show on Broadway. and one of only eight musicals to win the Pulitzer Prize for Drama, this is a show that speaks to people about art and what it takes to create it. Beenleigh Theatre Group has revived the show, directed from the mind of director-choreographer Stewie Matthews.
Basically, this is the show: seventeen dancers are auditioning for eight roles in the ensemble of a new show. They line up on stage – a disparate, diverse group of dancers. Here was a show about growing into adulthood and finding yourself. Here was a wonderfully self-referential show about auditioning for a part on Broadway. Here was thrilling dance, confessional monologues, and unflinching humanity. And there it was on a bare stage with nothing but a few mirrors and nineteen performers. This barebones dance studio puts all the focus on the invigorating vitality of pure motion, with the mirrors suggesting more dancers than the cast itself. We're seeing memories as much as moments here.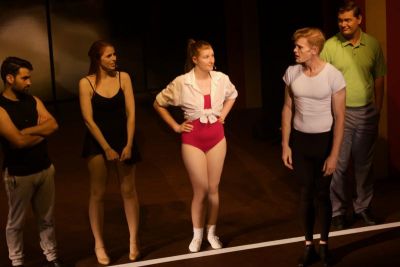 Droll Sheila (Aimee Monement) is so beautifully statuesque and has the gift of comic timing; she steals scenes right and left. The best of the night. While Taylah McLennan's Diana Morales made the popular song "What I Did For Love" soar, singing with believable earnestness, and shining in her earlier solo – "Nothing".
Phillip Maas, as Paul, stops the show with his heartbreaking monologue on sexual identity and isolation. "One day," says Paul, tears welling, "I looked at myself in the mirror and said: you're 14 years old and you're a faggot. What are you going to do with your life?" Maas' powerful delivery evokes the sort of unvarnished pathos so rare in this sort of theatre.
Clay English gave a new vigor to "I Can Do That", the athletic song for ball-of-fire Mike and a balletic flow to "The Music and the Mirror", the big solo accorded Cassie (Jackie Brewster), the humbled, sidelined star trying to earn her way back into the business.
Though the show's format is a transparent vehicle for personal confession — the dancers are interviewed on the line by taskmaster Zach (a terrific & stealthy Zander Tidmarsh) — the evening is galvanized by a sure-fire dramatic crux: we're eventually going to discover who will be anointed and who will be crushed.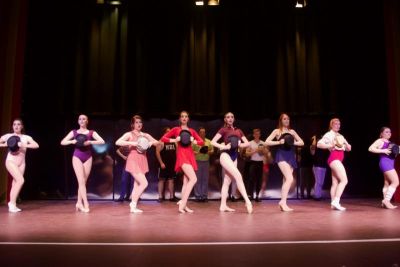 Other splendid turns: Tabitha Woods, playing Val, the dancer who hilariously exposes the female body hypocrisy of show business in "Dance: Ten, Looks: Three"; Hannah Avery, who as Connie narrates her own insecurities over height; Emily Rowbottom and Joshua Brandon, portraying spouses Al and Kristine, sweetly succeeding with the comic number "Sing".
The cast shines onstage during the many dance numbers and this is bar none the strongest element at play here. Music Director Steven Days also deserves much credit for his beautiful work, and the excellent orchestra playing some often-challenging music.
Beenleigh Theatre Group's A Chorus Line digs deeper into the psyches of the struggling young performers than any production I've seen, stripping the characters bare before the audience (not literally) in a manner so disarming, you forget you're watching a musical.
Mel Bobbermien