By Charles Dickens. Adapted and created by Shake and Stir. Director: Michael Futcher. Shake & Stir Theatre Co and QPAC. Playhouse, QPAC. 7-20 Dec 2018
Dickensian London is brought vibrantly to life in Shake and Stir's clever and inventive production of Charles Dickens' A Christmas Carol. Josh McIntosh's design with its grey alleyways and streets shrouded in fog is marvellously evocative of the period, and with state-of-the-art video projections by Craig Wilkinson, music by on-stage musician Salliana Campbell, and a top-flight ensemble cast, the story of Ebenezer Scrooge finding redemption has hit written all over it.
Eugene Gilfedder couldn't have been a better Scrooge – irascible and curmudgeonly, he defined the character with a swipe of his pen and the ding of his adding machine. He also made the transition from mean to joyous totally believable, helped by Nelle Lee's adroit adaptation of Dickens' original. But although Gilfedder had the prime role, it was Bryan Probets who stole the show as Marley's ghost of Christmas past, present and future. His drag role of an Edwardian lady all dressed in white, was especially funny, which resulted in an even more hilarious encore holographic appearance after the bows.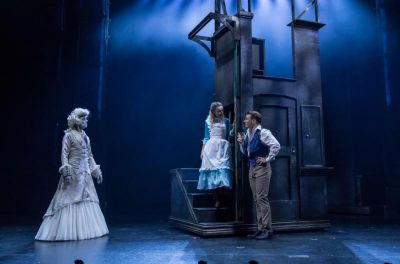 Fast moving direction by Michael Futcher found the hard-working ensemble wearing many hats (and scene-changing) as they played street carollers, toffs, and the poor but thankful Cratchit family. Ingeniously Scrooge's adding machine became a Tiny Tim puppet, one of the delights of this superb production which was dominated by Wilkinson's audio-visual images. Along with Jason Glenwright's moody and dynamic lighting, they elevated it to another level.
There's no doubt A Christmas Carol is destined to become a perennial favourite, not only in Brisbane but when it tours around the country as I'm sure it will. There's no bah or humbug about it, Shake and Stir have given us a theatrical bon-bon that's a Christmas treat.
Peter Pinne