By Matthew Whittet. Myths Made Here production. Cremorne Theatre, Queensland Performing Arts Centre (QPAC), Brisbane. 26 April to 5 May 2019
Cinderella is the Queensland premiere of a relatively new one-act play by actor and writer Matthew Whittet. It is a sharp debut by Myths Made Here, a fresh Queensland-based group that includes director, Daniel Evans, Cinderella's two stars, Amy Ingram and Thomas Larkin, along with producer and educator, Annette Box, and producer, Tara Hobbs. I'm sure we will hear more from this creative collective in the future.
Evans conducts this short two-hander deftly, and the result is a highly entertaining piece. Ingram and Larkin are warm and engaging, playing two stressed-out singletons with likeable ease, holding their angst in check for perfect comic effect. You simply fall in love with Ingram's Ashley – she is pretty and perky, but forever keeping her energy under wraps so as not to reveal her ever-anxious personality. She moves effortlessly from bubbly and funny to sad and lonely – the woman longing to believe in the pop-song fantasies but equally wanting to peel off the veneer and just be accepted for being herself – love of 80s pop, pet cat, herbal tea collection, and all.
Larkin has the challenge of making sure we know upfront that he is a charming chap with his heart in the right place, and not just a dangerous guy luring our lady to a seedy scene in the nearby park (come on, if you were a woman in the audience, you were thinking it!) He succeeds with a fine performance that balances the gormless with a natural comic appeal. Who wouldn't want their evening to be saved by his timely appearance?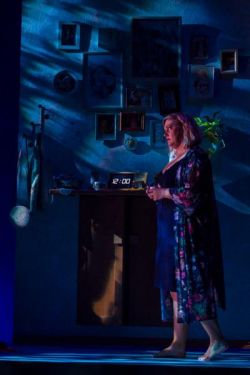 With witty use of Hall and Oates 80s pop classics, the action starts with a panic attack at a nightclub. A blind date – of sorts – ensues. Sparse but effective set and lighting designs cleverly reinforce the themes of separation and isolation.
There is a returned missing shoe, a 'charming prince' in denim, and impending midnight chimes – it's Cinderella, but not as we know it… more a chick-lit rom-com for the stage – a date-night modern fractured fairytale. The cast maximise the comic potential of the quirky script, yet something doesn't quite ring true –if this is a 'dream date', then some of the dialogue could be more fantasy and less flat. Also, 'Pumpkin' the pet cat may be name-checked to reinforce the Cinderella theme but every girl knows that fawning over your pets is a conversation no-no. Equally, no matter how much you love your Mum, mentioning her again and again is a first date faux pas. A gorgeous moonlit park scene is marred by an unromantic insect tale and a quirky bedroom scene is fraught with forced bathroom banter. Yet, the one-act format has ample time to handle the harsh realities of being 'desperate and dateless', and there is an opportunity to say more – especially as Evans and Ingram are founders of The Good Room performance collective that uses real experiences to create theatre works. Perhaps contributions from online-dating veterans would add an accessible edge to draw the audience even closer to these two likeable characters. Even so, there is something compelling about the two performers that keeps the spark alive, and lets us hope for a happy ending.
With promises of creating contemporary theatre about life today, I hope Queensland audiences can look forward to seeing this refreshing and talented team in action again soon.
Beth Keehn
Photographer: Darren Thomas