By Tony Nicholls. Directed by Carole Dhu. Pinjarra Civic Centre, WA. Feb 14-15, 2014
With a "blink and you miss it" season, chances are that you didn't catch Primadonna Productions' incarnation of Cinderella.
To present this Tony Nicholls pantomime, the youth company teamed with local adult thespians to give the kids a chance to work with more experienced actors, and the result was a lot of fun for all.
An excellent example of true community theatre, with a lovely atmosphere generated from the stage and front of house, while producing a good quality production.
Ebonie Ballard was very sweet in the title role, while Peter Rogers brought personality and a lovely voice to the prince.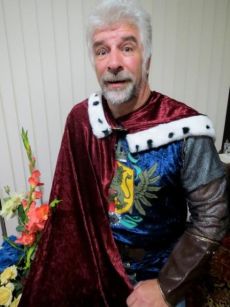 There was an abundance of delightful baddies. Warren Read, in my favourite performance of his to date, was a dastardly Dandini with Gemma Little and Stephen Carter making very funny minions. Director Carole Dhu nicely performed double duty as language destroying, evil stepmother, Lady Halfcock. In lovely casting symmetry Carole's real-life daughter played the ultimate in evil characters, Lucy, the devil in disguise, in a gorgeously flamboyant performance.
Michael Caldwell and Andy Peckover were fabulously over the top in the stepsister dame roles, while a bevy of devils including Zoe Lyons, Cassie Power, Ruby Liddelow and Leah Dodds, also "turned on the bad".
I really enjoyed the performance of Garry Swindell, who was a truly delightful Buttons, with an endearing Yorkshire accent and beautiful singing voice. Rounding out the adult cast, were solid contributions from Mike Rogers as Cinderella's mother and Angela Edwards as the ghost of Cinderella's mother.
The children of the cast brought much life as devils, villagers, peasant children, courtiers, fashionistas and lichen. They provided some excellent singing, energetic characterisations and danced beautifully.
This was a fabulously feel-good production that was well worth seeing even on a sweltering February afternoon.
Kimberley Shaw