Opera by Gioachino Rossini. New English translation: Lindy Hume. Recitatives: Narelle French. Director: Lindy Hume. Conductor: Wyn Davies with the Queensland Symphony Orchestra Conservatorium Theatre, Southbank, Brisbane. 6 July 2013
2013 seems to be the year of Cinderella. First we had Queensland Ballet's production of it and now Opera Queensland get into the act with a work that is listed as number 29 on the world's most-performed operas.
Based on Charles Perrault's version of the fairy-tale but without the magic elements (no fairy godmother, no pumpkin and mice into coach and horses and no glass slipper) it's an opera-buffa, which features some dazzling composition for voice. This new production looks stunning. Lindy Hume's choice to reset the work in Dickensian London has inspired designer Dan Potra with Don Magnifico's Emporium's Old Curiosity Shop look a visual delight.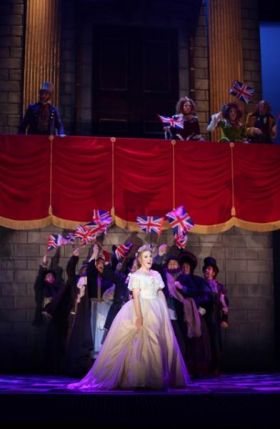 Mezzo-soprano Fiona Campbell was a perfect Cinderella. She looked pretty and virginal and impressed with the composer's demanding vocal ornamentation. Andrew Collis as the father Don Magnifico was also exceptionally strong and hugely enjoyable in the sommelier scene. Emily Burke (Clorinda) and Deborah Rogers (Tisbe) were an amusing pair of Ugly Sisters, Jason Barry-Smith as Dandini lifted the first act, while the rich bass-baritone of Ashraf Sewailam stood out as Alidoro.
Unfortunately Virgilio Marino's Don Ramiro suffered from bad diction. Although the opera was sung in English it was hard to understand at times what exactly he was singing despite the sur-titles. In fact that's a criticism that could be levelled at most of the cast due no doubt to a clunky libretto adaptation by Hume.
Under Wyn Davies' baton the Queensland Symphony Orchestra was loud - frequently so loud that it was hard to hear the singers.
The production at times had an air of pantomime about it (although the ugly sisters were not played in drag the men's chorus featured some cross-dressing members with moustaches), and at others it felt like Gilbert and Sullivan but without the wit.
This is the first co-production between Opera Queensland and New Zealand Opera and on the standard achieved augers well for future ventures.
Peter Pinne
Photographer: Stephanie Do Rozario