Murray Music and Drama. Directed by Cathy Puzey. Pinjarra Civic Centre, WA. Nov 15-29, 2019
It is always a pleasure to visit Murray Music and Drama, with their lovely Front of House staff and country hospitality. The cabaret style seating helps to make this feel very much a community event. This production of Cinderella speaks to this, with Buttons making call outs to people in the audience, including life members and residents from the local lifestyle village in attendance.
Lots of new faces in this traditional pantomime. The lovely Abigail Thomas, as Cinderella, plays her first lead role in an adult performance, with her handsome Prince Charming, Thomas Pestrucci, performing his first ever lead role.
Emillie Rivalland, only seventeen, makes a very nice community theatre debut, standing out in the breeches role of Dandini, while her father makes his very first appearance on stage as Baron Hardup, and Ethan Jenkinson, a sweet Buttons, appears in his first "book show".
Meyer van der Westhuizen and Alex Pestrucci, both relatively new to community theatre, are audience favourites as ugly sisters Cheryl and Beryl, playing nicely off each other. Another nice pairing is Joel Gal and Adian Mellor as Blues Brothers styled henchmen Snitch and Snatch. Lovely teamwork also from brothers Drake and Dean Gordon working in partnership to portray panto horse Dumpling - probably the best pantomime horse I have seen.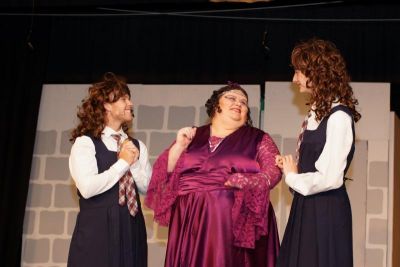 There is some experience guiding the fresh-faced cast. Theatre veteran Rach Gilmour portrays a ditzy Fairy Godmother, with Sheryl Gale creating a larger than life characterisation of evil stepmother Lady Devilia Hardup.
Costumes are well co-ordinated by Tammy Peckover, with excellent use of colour and some lovely ideas - especially the ugly sisters' gym slips and Lady Hardup's ball gown. The horse costume, made by Jacinda Gordon, was a highlight.
While at times this production is a little rough around the edges, it has lovely heart and enthusiasm. Suitable for all ages, Cinderella is good, clean entertainment to brighten and afternoon or evening.
Kimberley Shaw