Judith Wright Centre of Contemporary Arts, Brisbane. November 13 – 24, 2012.
Bare white stage surrounded by black drapes. Music. Lights pick up a group forming. Nimble imaginations spark, bodies coalesce, magic happens. They transport us.
Not all our dreams are beautiful, lyrical or erotic. Sometimes there is confrontation, provocation: bodies flung across the stage land thunk! spread-eagled. Our bodies might not survive such abuse but these artists roll up, or arch and spring back into action.
What is this? Martial arts? Movie stunts? Dance? Extreme sport? Gymnastics? There are elements of all of these. This is internationally celebrated CIRCA ─ circus, Australian style.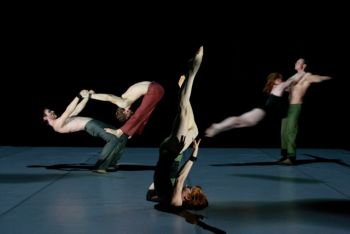 The stage is never empty. It's a kaleidoscope of solos, duos, trios – other combinations. Programmes list seven artists' names: Nathan Boyle, Jessica Connell, Daniel Crisp, Casey Douglas, Brittannie Portelli, Kimberley Rossi, Billie Wilson-Coffey; no individuals attributed to specific skills. Circa is a true ensemble; therein lies their success. Each artist contributes their specialty and the combined skills are improvised seamlessly into a thrilling seventy-five-minute collage.
But I cheated. I'm sorry. Three segments fascinated me so I logged onto the website. If you've seen hula-hoop acts before, I doubt you've seen artistry to match Jessica's with her luminescent blue hoops. Billie's chutzpah in using her lush long hair to create a uniquely comic contortion act is …well … a revelation.
Then, to surprise us, all seven mime their emotions to the song "Perhaps", feelings we recognise in ourselves. Hilarious.
Jay McKee
Photographer: Justin Nicholas, Atmosphere Photography