Melbourne Circus Festival. National Institute of Circus Acts (NICA). NICA National Circus Centre, Prahran. September 26 to October 2, 2012
National Institute of Circus Acts (NICA) Director, Pamela Creed, states of the Melbourne Circus Festival: "The festival offers something for circus lovers of all ages with a range of family shows, children's workshops, extraordinary Circus Cabarets, and something a little edgier for those who stay out late".
Creed was understating it. You don't have to be a circus lover to be dazzled, mesmerised, and - quite simply - blown away by the talent that is on offer.
I was privy to a Circus Cabaret production to herald the festival that honours the ten years that NICA has been Australia's leading professional training institution for circus artists. The 90 minute show was made up of local, national and international circus performers, and no two acts were similar: we were won over by a tightwire walker (Emma Avery), a trapeze artist (Tegan Carmichael), a chair balancer (Rockie Stone), a juggler (Patrik Elmnert, from Sweden), a unicycler (Kyle Raftery), a tissu acrobat (Daniel Power), and a pair of human foot jugglers (Christopher Zaluski, Amy Nightingale-Olsen).
NICA must be doing something right, as each performer demonstrated professionalism, grace, boldness and flair. Music and costumes were appropriate to each routine. Stunts played out in time with music. Characters were formed and played out effectively to produce routines that were more than just a display of human flexibility, strength and agility.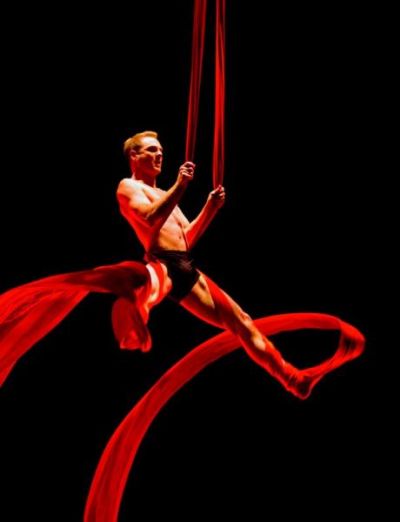 Speaking of human, the performers are in fact such! Small errors transpired, like Avery's ladder gag and the more unfortunate unicycle blunder, where a young boy from the audience was handpicked to be trampled on. NICA staff, however, were caring and concerned about the boy, indicating company integrity and a safety-fist approach.
The 'cabaret' part of the title was not delivered. The stage was a large space surrounded by black curtain and clever lighting, not amid restaurant-or-bar--goers. Singing and dancing was decidedly absent. But, Cabaret-style, we were provided with a host who broke down the fourth wall whilst happily reeking of humour and charm. Eloise Green, 2003 NICA graduate, did a lot more than distract the audience during set changes: the 'hoola hoop queen' made the show interactive by linking the audience to the performers whilst playing amiable character, 'Daphne'.
Green's return to NICA for this inaugural festival symbolises the close-knit circus community, who are working together to ensure a positive response from the wider community. Circus students, armed with hoops, ribbons and fire, greet audience members outside the National Circus Centre, and former/current/prospective students in the audience cheered on their peers.
Generally, circus shows are an assault on the senses, and they are pleasurable for audiences of all ages (in this packed house, aged 5 to 85). One can see the concentration in the performers' eyes, smell the audience's fear, touch – or rather, feel – any pain associated with a stunt, taste the sweetness of success, and hear the audience's collective sigh. Circus shows are also humbling, in viewing what some people can do, how passionate they are, how hard they train, and how they risk more than their reputation at every performance. This circus show was no different. I was proud to be in a space that boasted so much local and national talent, as well as opportunities for the new generation to try and train.
If an eclectic line up of world-class acts is your taste, seek out the Circus Cabaret at the NICA National Circus Centre until 2 October.
Tammy Shmerling
Photographs: David Wyatt
More on the Melbourne Circus Festival - link
To keep up with the latest news and reviews at Stage Whispers, click here to like us on Facebook, or follow us on Twitter.