Merlyn Theatre, Malthouse. November 15 - 25, 2018. and Riverside Theatre Parramatta. Jan 10 - 13, 2019
Rock Bang is the raucous new show by Circus OZ. Capping off their forty year celebrations, together with punk duo Otto and Astrid Rot, they deliver a wild and riotous Rock Opera.
If you're not familiar with the churlish pair, Otto (Daniel Tobias) and Astrid (Clare Bartholomew), they have managed to muster up cult-like status with their band Die Roten Punkte (The Red Dots). They are true - mockingly in good vain with the likes of Spinal Tap, to say the least.
Orphaned from a young age, abandoned by their fosters and stranded in their teens in Amsterdam, eventually they find themselves in the heart of the underground rock scene in Berlin, during the falling of the wall. They give chase to their dreams and success follows them. Otto is the introverted, man-child and Astrid is the extroverted sex vamp who lives the sex, drugs and rock n' roll lifestyle that leads her straight into rehab.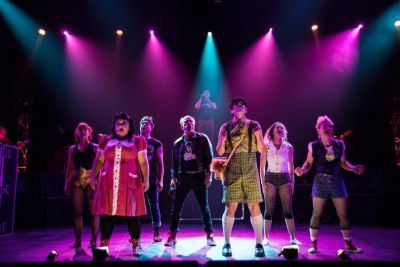 Six versatile acrobats leap into the fairy tale world of Astrid and Otto and become part of the journey between rope, trapeze, juggling - the show is equally theirs as much as it belongs to the fame craved punk stars, while the live rock set just keep playing loud and proud
This is an hilarious first rock opera, directed by the illustrious Rob Tannion (Circus Oz), who has recreated a feisty and vibrant meshing of experimental theatre, circus and rock. The superb theatrical set design (Michel Baxter) co-habits perfectly with the circus rigging in the Merlyn Theatre, always a great space for technical wizardry. The Lightning Design (Ricard Vabre) is colorful illuminating and sparkly. Credit goes to the shadow puppetry design (Lynne Kent) that is minimal and evocative in the first half of the show.
Flora Georgiou
Photographer: Mark Turner.