By Jamee Campbell and the Circa Zoo Ensemble. Ron Hurley Theatre, Seven Hills Hub, 28 Tallowwood St, Seven Hills (Qld). April 13-15, 2019
There is a wonderful balance to Circa's youth ensemble, Circa Zoo, that goes beyond the physical acrobatics of the show they are presenting to celebrate Queensland Youth Week in Brisbane.
On a practical level, the team of 10, aged from 11 to 17, are showcasing their talents through a series of choreographed segments, from tumbles, hula-hoops, and aerial silks, to rope work, human obstacle courses, contortion, and human pyramids.
But that is not all they are giving us. This show has a soul. It is whimsical, cheeky, and heart-warming in a way that Cirque du Soleil can make you feel, but without the need for elaborate costumes and props.
Circa is a Brisbane-based international contemporary circus company and director Jamee Campbell has worked with the youth ensemble create a show to appeal to all our senses and she has filled it with exquisite detail, whether she's choreographing a single hand, or a sea of hands moving in unison like a school of fish.
Her French-inspired playlist sets the scene, giving the performance space its identity beyond the black curtains of the upgraded 155-seat theatre at Seven Hills. It is publicly available on Spotify at: https://open.spotify.com/user/jameebeetle/playlist/2UCU9gz8GDXdgbrVtvb1jG?si=len5KzHdSJmkJKl8gzs83Q and well worth a listen.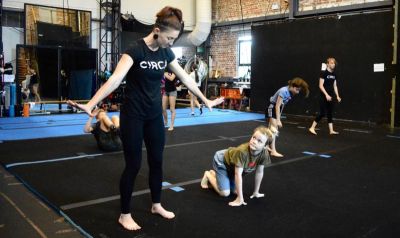 These are Queensland kids, training on the holidays and through school terms, in an artform where the action has a deeper meaning: they lean on each other, balance each other, and lift each other higher in this artform and as individuals.
From the moment Brynn Holmes-Clark slides down his ladder, grazing on pieces of popcorn that are strategically placed on stage to lure him into the show, we are curious. By the time Eve Timmins has wrapped herself in an aerial world of silks we are willing captives, and when the youngest trio in the team, Liliah Bustamante, Char Weerasinghe and Brynn pull us into their smelly skit, we are accomplices.
As the performers come out for their curtain call and The Clash starts to play, the question really is: Should I stay or should I go now? We could easily have stayed for longer.
The show itself goes for less than an hour, but with free workshops for young people before and after the show, you can make this a great school holiday outing.
Debra Bela