By Cy Coleman, David Zippel and Larry Gelbart. SYMT (Sydney Youth Musical Theatre). Director: Celeste Notley-Smith Hornsby RSL Club. July 6 – 14, 2012.
Youth musical theatre just got pretty raunchy at Sydney Youth. Murder, infidelity and seduction are rampant, even though none of the cast are older than 24. Don't worry though, it's all just musical comedy.
Tony Award winning musical City of Angels tells the story of a writer caught up in the machinations of Hollywood, while adapting his successful novel into a Film Noir detective flick. Boundaries between life and cinema are entertainingly blurred, as the film action is acted out in parallel, complete with re-writes.
Unfortunately a potentially strong, creative production was marred on opening night when the show's numerous scenic transitions didn't flow properly. Disappointing, as all the other elements of a good show are certainly present.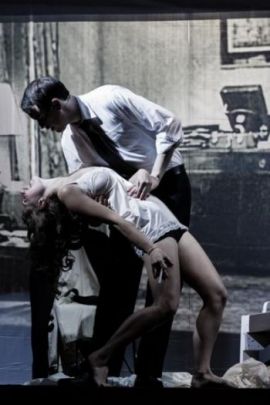 Crossing the boundary between life and the cinema, 'film' sequences are presented effectively within a stylized central art deco proscenium arch set-within-a-set. Projected Film Noir backgrounds combine with black and white costuming and props to great visual effect, though occasionally the space seems a little cramped. Contrasting colour in costumes and regularly rotating secondary settings to either side of the movie screen represents the real-life world. In some big scenes, the two become appropriately blurred, while in the duet between writer (Stine) and fictional detective alter-ego (Stone), when the two swap worlds with each other, a further visual dimension is added as Max Newstead and Andrew Bartle utterly nail this finale to Act One.
While SYMT is a 'youth' company, Newstead is a talented, assured musical theatre performer by any standards, and Bartle's confident, two-dimensional cinema private detective appears to be intelligently informed and precisely detailed by immersion in the genre.
They're surrounded by so many talented young women that it's hard to know where to begin. As Stone's plain Jane Girl Friday Oolie, Alyssa Porteous, like Bartle and so many other cast members, has the film genre stereotype down to a tee, and makes much of a splendid contrasting breakout singing moment; Ashlie Martin's bad girl socialite Alaura is aptly vampish and seductive; Claire Jackman makes Mallory a sly, sexy little minx; Emma Scarlis finds truth and credibility as Stine's wife Gabby; Zoe McDonald's Donna is warm and sincere, while Imogen Abba's starlet / torch singer Bobbi not only catches the cinematic stereotype of her character, but is also credibly vulnerable. They have voices to match the great singing moments provided by their roles.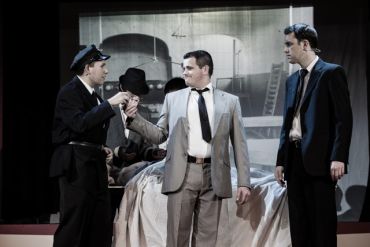 With so much talent available, while splitting the paired casting of female roles is understandable, I regret the loss of parallels between the real-life and screen characters. Double casting decisions were pragmatic, though, with male doubling retained.
Youth works against Jarryd Prain as the cynical film producer Buddy. He's a confident, capable performer, who lands the sleaziness of the character but doesn't quite nail the hard-edged cynicism.
Ben James creates broad stereotypical fun as Stone's police nemesis, while Adam Haynes makes the most of cameos (uncreditied) including a dodgy mystic guru.
Bravo to Musical Director Jeff Fisher on the top notch orchestra, as good as you're likely to hear in a community theatre pit, complete with frequent personal contributions on a range of instruments. They do full justice to the jazz style Broadway score.
The verve, joy and energy of the young ensemble is infectious as they throw themselves into their work.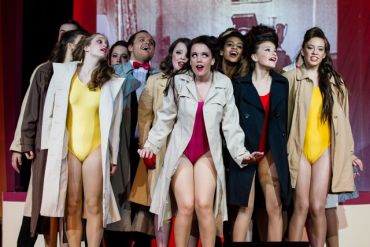 Full credit to set designer Gary Notley-Smith for the show's striking visuals. I'm hopeful that as the season progresses the young SYMT stage crew will have been helped to meet the challenges of manipulating his sophisticated, yet very workable, scenic concept. They too deserve a totally positive experience. On opening night the show was clearly still in need of a serious technical rehearsal.
I look forward to hearing that these issues have been tackled and that later season audiences see this production and its talented young cast to fullest advantage.
Neil Litchfield
Photographer: Grant Leslie