Music by Cy Coleman. Lyrics by David Zippel. Book by Larry Gelbart. Directed by Martin Croft. Playhouse Theatre, Arts Centre Melbourne. Nov 5th-8th, 2015
Very few things in life are truly worth waiting for; but Life Like's professional stage debut of Broadway's 1989 artistic triumph, City Of Angels, must top the list and delivers on every level. A stunning cast is complemented by astonishing creative forces and enhanced by a brilliant live band which the amazing Kellie Dickerson handles with all the aplomb of Stan Kenton at his best (though no doubt she's a far better pianist). There are even sax and trumpet solos to rival Lee Konitz and Clark Terry respectively at their peak. Coleman's music oozes jazz:- moody, bluesy, swinging: it's a gift for good musicians and this band really jams up there with the best. There's even a vocal quartet performing not just great harmonies, but Vocalese, shades of the great Lambert, Hendricks and Ross (long before Manhattan Transfer). Musically, the show is a degustation feast for jazz lovers, it just needs a Maynard Ferguson sustained trumpet top line to cap it off.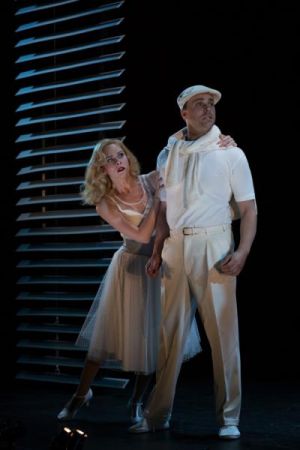 The story is clever, but not earth-shattering: Stine, a successful author, is adapting his highly successful novel into a screenplay, with way too much interference from Buddy Fiddler, a megalomaniacal film producer whose name says it all. Stine's hero detective, Stone, is his alter ego, the hero he would like to be, and even tries to be. The guy who gets the beautiful women and always conquers the baddies, except that Stein the writer sells out his characters for the big bucks – a dilemma all writers know too well. Given that the book is written by the great Larry Gelbart, one suspects he has also "been there, done that." Along with the D&M (Deep and Meanigful) sub-text, there are laughs galore in genuinely witty exchanges that come directly from character and situation. All the cleverness lies in the telling, which is done with great style.
If writers adore the sophisticated and intelligent script, Music Theatre people also love this show, and nowhere is that more obvious than on the stage itself. Martin Croft's deft and classy direction shows deep respect for the creators of this sparkling diamond of a show. Small wonder it won six Tony Awards and nine (count 'em folks) Drama Desk Awards. Croft clearly defines the real …and sometimes seedy…world of Hollywood, with all its colour, juxtaposing it with the monochromatic 40s cinema world of Film Noir. We are never in doubt for a moment about what world we are in. Somehow Tom Willis, with a magnificent lighting design, manages to give us reality and film on stage together at the same time…it's quite surreal and pure magic. Kim Bishop's costume designs are just sensational (with the classic haute couture white suit dressed with full artic foxes, conjuring up images of Joan Crawford or Barbara Stanwyck). And the hats would have won Fashions On The Field at Flemington this week. Corinne Day has done a magnificent job with wigs and makeup and Robert Alexander's set… with its mirror reflection of rostrums and balance of colour/black and white in apposition… works to perfection. Ben Osbourne's snappy and authentic choreography is the icing on the cake. All of this achieved in just two and a half weeks of rehearsal for a run of just four performances. It's a breath-taking achievement for any company.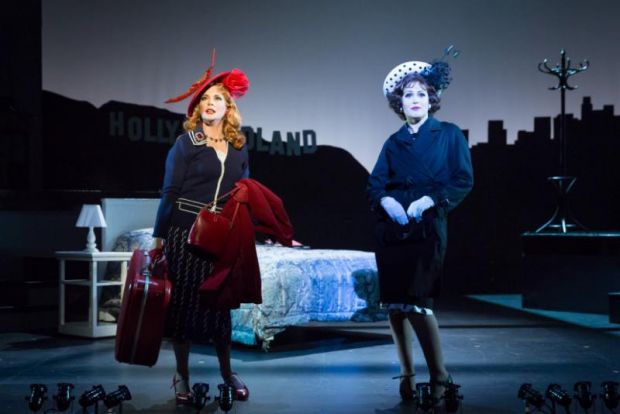 But it's the cast itself which makes the show doubly special. An array of our best and brightest musical performers take the show, pump it up with energy and talent, and send it out to the audience wrapped in love. Anton Berezin is the perfect Stine. Not content with being a bloody fine actor in everything he does, Berezin has a soaring tenor voice that delivers in every number. In "You're Nothing Without Me" he manages to top Kane Alexander, who is himself well endowed with vocal chops. But it's the intensity of his Stine, the 'Jewish Guilt' at selling out for dough and dames, the frustration that he can't live up to wife's Gabby desire for 'the best he, he can be' that makes us love him. It's a stunning performance. Kane Alexander is perfectly cast as the Film Noir Detective Stone – just a little bit wooden at the right time, and his singing is superb.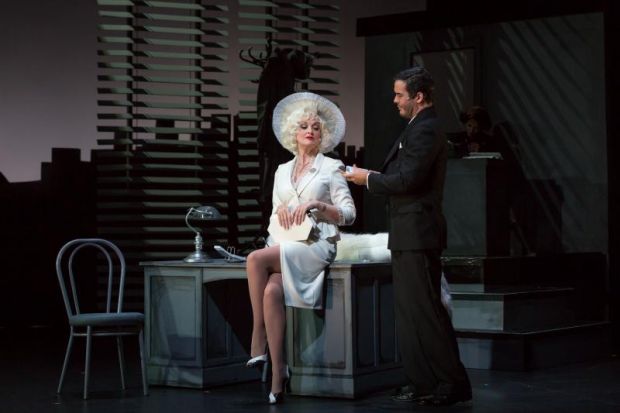 Chelsea Plumley (Gabby/Bobbi) almost steals the show. She's just magnificent, nuanced, subtle, sophisticated, witty, and in fine voice in her two great numbers "With Every Breath I Take" (Bobbi) and It Needs Work (Gabby). Her 1940s 'sophisticated' poses as Bobbi are hilarious and timed to perfection. She is a National Treasure. She would indeed have stolen the show were it not for Amanda Harrison, who totally nails two very different secretaries in Oolie and Donna and kills both versions of her big number "You Can Always Count On Me". She is fabulous. And Troy Sussman makes mincemeat of the two equally obnoxious producers, Buddy Fiddler and Irwin S. Irving. Sussman's comic timing is perfect, and that great, belting, voice is just a bonus. Anne Wood (Carla Haywood/ Alaura Kingsley) brings her customary style and class to her twin roles, but excels as Kingsley in her witty duets with Stone. Rohan Browne, who never gives less than 110%, gives 120% as the vain and slightly mediocre Jimmy Powers; and Adam Fiorentino (Pancho Vargas / Lieutenant Munoz) really gave balls to Stone's nemesis Munoz and fully delivered in the witty "All Ya Have To Do is Wait"…though there were several long notes where he was decidedly pitchy. Hannah Fredericksen (Avril/ Mallory) is delightfully fresh and ditsy as Avril ( "It's French for April") and a smouldering vamp as Mallory. She's destined for a huge career. And the Angel City Quartet (Melissa Langton, Jennifer Peers, Andrew Kroenert and Connor Crawford) provide marvellous harmonies and vignettes, with Langton being the stand out (isn't she always?).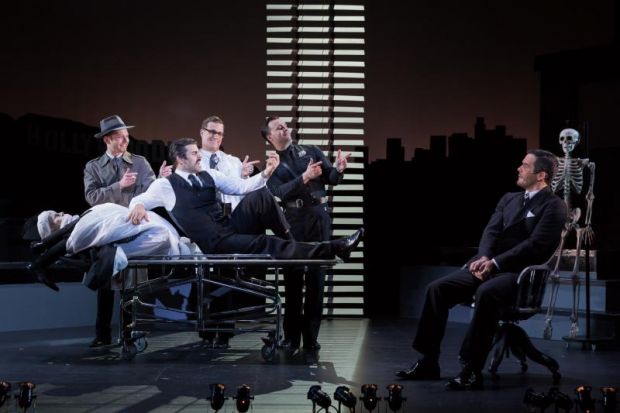 Coleman and Zippel are not Rogers and Hammerstein – great though the latter may be. You won't walk out singing "Getting To Know You" or "Happy Talk" and it may be that the music in this show is too complex, too contrapuntal and sometimes dissonant for the average punter. Every song is perfect, though none is outstanding in memorability. But this is superb theatre, slick, sophisticated, elevating the audience with its excellence. It is not to be missed.
Coral Drouyn
Photographer: Ben Fon