Queensland Ballet. Lyric Theatre, Brisbane, 31 Oct - 2 Nov 2012
Another end-of-year-show piece, which enabled principal dancers and soloists to shine in audience-popular classical excerpts, along with nine graduates of this year's professional training programme augmenting the corps de ballet. What an opportunity for the initiates!
Brisbane balletomanes love their classics with orchestral accompaniment. This show gave them much to feel proud of.
François Klaus put the show together; top credits to him! Noelene Hill's costumes were lavish eye candy, yet always practical and atmospheric. Likewise Graham Maclean's set designs and Ben Hughes's supportive lighting. What a sterling creative team!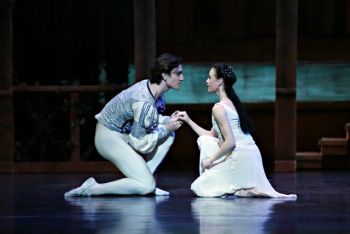 The Eastern European set for 'Le Corsair' impressed me; likewise the romantic design for 'Romeo and Juliet'; also the lush, plush Café in the 'Swan Lake' international dances extract.
Principal dancers deserved th