By Patricia Cornelius. State Theatre Company of South Australia. Adelaide Festival. 23 Feb - 18 Mar 2018.
One wants very much to unreservedly praise In the Club for its topicality, striking visual style, emotionally committed female performances, eagerness to challenge audiences, and refusal to offer easy answers or state the obvious about its chosen subject.
All of these aspects may well add up to a slam-dunk success for certain viewers, but this critic, though initially riveted and enthused, felt increasingly alienated by author Patricia Cornelius' fractured storytelling, the impact of which was compounded by flawed male casting.
Its stated aim being to investigate the world of football and sexual misconduct, In the Club is so compelling and convincing on the latter front - thanks to its invaluable feminist perspective, incisive characterisation, and empathic acting from Rachel Burke, Miranda Daughtry, & Anna Steen - it ought not to matter that the supposed sportsmen of this story communicate the impression that they may never have picked up a ball in their lives.
In the end, this discrepancy is too much of a distraction to ignore, and it unbalances the show in a way that makes Cornelius' script into a moderately effective essay/issue piece, rather than a truly absorbing and satisfying study of specific characters in a specific milieu.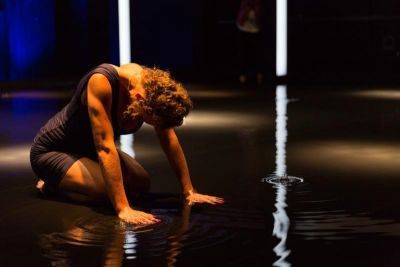 Director Geordie Brookman and associate Suzannah Kennett Lister have gone after a richly dark visual atmosphere - with some sharply jarring sonic textures - to complement the emotional territory of this text; set/lighting designers Geoff Cobham & Chris Petridis - plus composer Gazelle Twin & sound designer Andrew Howard - have produced a theatrical environment that frequently astonishes and takes the breath away. Perhaps it's even too much of a good thing at times, as the chosen style particularly threatens to eclipse the three male characters - played by Rashidi Edward, Dale March, & Nathan O'Keefe - and to overpower many of the scenes in which the men participate.
Perhaps if it had focused solely on the women, their backgrounds, and their stories, In the Club would have been a winner all the way. As it stands, despite this reviewer's reservations, the show is still worth attending; such social problems as those tackled here are complex enough that any piece of theatre which generates discussion on these matters is a potentially valuable contribution to a necessary nationwide conversation.
Anthony Vawser
Photographer: Sia Duff